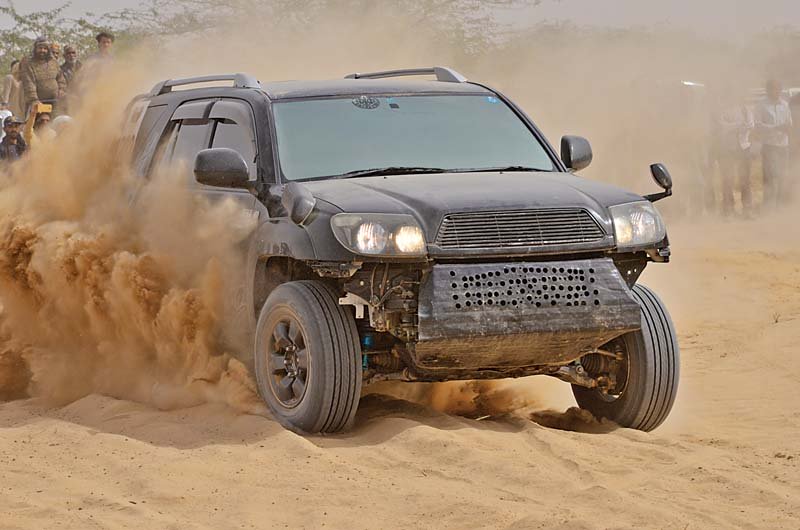 ---
LAHORE: Around 100 drivers from across the country are gearing up to participate in the 12th Cholistan Desert Jeep Rally starting from February 9.

"The preparations for the country's biggest motorsport event are in the final stages," said Punjab Chief Minister's Advisor on Toursim Rai Haider Ali Khan Khral while addressing a news conference on Wednesday.

The event is being organised by the Tourism Development Corporation of Punjab (TDCP).

"The TDCP was expecting off-road drivers from other countries this year, including Iran and Thailand. Also, some Pakistani women drivers have also shown interest," he added.

Thousands of people are expected to visit Cholistan during the four-day event, he said, adding the corporation has extended the rally route and now the total length is 450 kilometers in the Cholistan Desert.

The area covers three districts, including Bahawalpur, Bahawalnagar and Rahim Yahr Khan.

He added some major fort sites, including Dingarh Fort, Islamgarh Fort, Marrot Fort, Nawakot Fort, Moujgarh Fort, Mirgarh Fort and Jamgarh Fort, are part of the rally track and one of the major attractions for tourists, besides the thrilling rally.

Rai Haider said the TDCP is providing a unique travel experience to tourists to see Cholistan, which has a rich history and culture. "It would also be a great opportunity to visit the city of Nawabs, unique palaces and the museum in Bahawalpur."

The desert tour would also feature cultural performances by local artists, fireworks, camel and jeep safari, he said, adding visitors can also stay overnight at desert camps.

The corporation had also signed a memorandum of understanding (MoU) with sponsors during the news briefing.

The Cholistan Desert Rally initially started in 2005 and the event is aimed at promoting Southern Punjab as a winter tourist destination and motorsports in the country, he said. Occupying the far-south of Punjab, Cholistan desert is the most picturesque desert in the country. Cholistan, locally known as 'Rohi' (a land of rolling sand dunes) is a continuation of the Thar Desert in Sindh and Rajhisthan desert in India. The Cholistan desert is about 483 kilometres-long and 64 to 290 kilometres wide.

Cholistan Taskforce Chairman Senator Saud Majeed, TDCP Vice Chairman Imran Goraya, Tourism Secretary, TDCP Managing Director, renowned drivers and other stakeholders were also present on the occasion.

Published in The Express Tribune, January 26th, 2017.