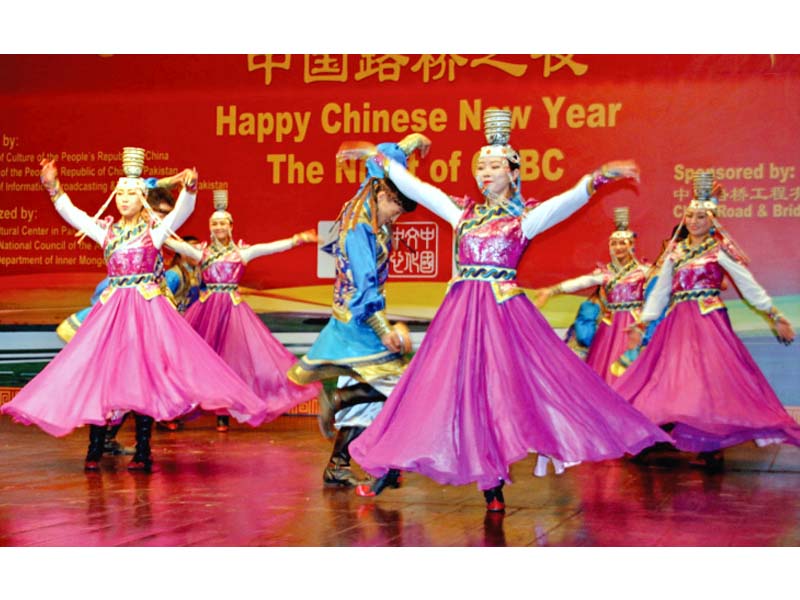 ---
ISLAMABAD: How do you ring in the new year?

Most may silently observe the dates change, others may turn to lighting fireworks and showering loose confetti to usher in the new year.

The Chinese, especially those in Islamabad, held an elaborate cultural performance to warm up the chilly weather before the main celebrations kick off next week to welcome the year of the rooster.

A troupe of Chinese artists from inner Mongolia presented a colorful and riveting cultural performance in the capital on Thursday and Friday at the Pakistan National Council of Arts (PNCA) Auditorium in Islamabad.




The performance had been jointly arranged by Chinese Culture Centre in Islamabad and the PNCA.

Zhao Li Jian, the deputy chief of mission of the Chinese Embassy highlighted China-Pakistan friendship. Noting that 2017 would be the year of the rooster, Jian said that the rooster was a special bird and a sign of light as sunrise is marked with a call from the rooster.

National Highway Authority Chairman Shahid Ashraf Tarar, who was a special guest on the second day of the performance, said that Pakistan and China enjoy time tested friendship and that the people of Pakistan are pleased to be a part of the Chinese New Year celebrations.

Later, the Chinese artists left the audience spell bound through their performance which included traditional Chinese music, dances and acrobatics.

The show started with group dance performance of "Tea Serving". The dance is performed to welcome in the new year when relatives visit each other's houses to mark festivities while dressed in colourful costumes.

Next, artists played the traditional tune of the "Roaming Horse", a tune of life which.

An traditional acrobatic performance, which has somewhat become a symbol of Chinese cultural performances, was also show cased with acrobatics performing intricate and smartly choreographed sequences. Flats or plate spinning performers also showcased their skills.

The Male solo 'Mother' and female solo 'Maria' variations were also presented.




Apart from the performance from the Chinese, a troupe of musicians and dancers from the National Performing Arts Group of PNCA presented a dance and music ensemble titled "Pakistan Banana Hai", along with other Pakistani traditional dances. Haroon Shedai performed Pashto folk tunes on rabab.

Other performances part of the show include a flute solo, dance and musical performances such as "Prior Love", "Khoomel", "The Warrior" in addition to balancing contortionists, a group dance by women, acrobatic high pole handstand, a performance of the horse-head fiddle instrumental ensemble and a song and dance performance titled "United as One".

Published in The Express Tribune, January 22nd, 2017.