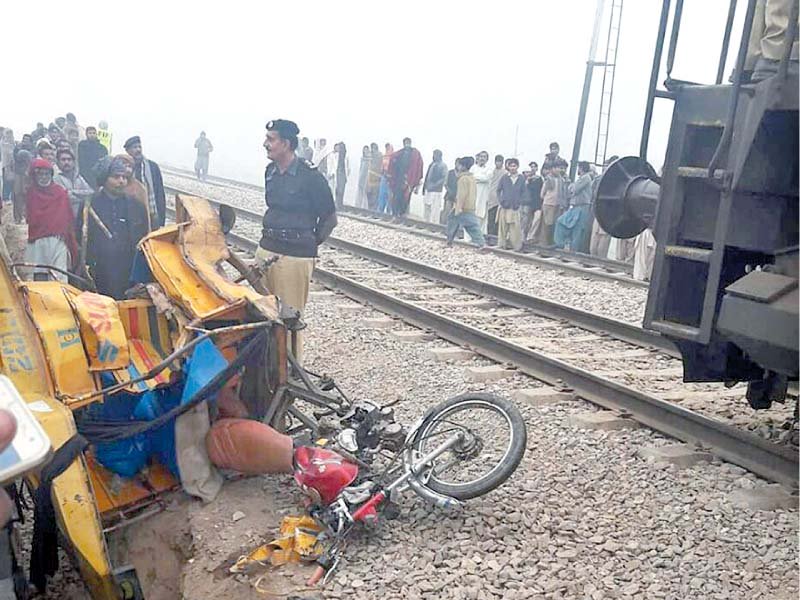 ---
MULTAN/ LAHORE: Six children and two men were killed and another seven people wounded when a passenger train slammed into a motorised rickshaw near Adam Wahan railway station in Lodhran district on Friday.

The 12-Down Hazara Express, which was en route to Karachi from Havelian, crashed into the rickshaw at 8:10am at the Jalalpur Morr crossing in dense fog.

The gate at the crossing was open at the time of the accident, meaning vehicular traffic on the road could cross the railway tracks, according to DCO Railways Multan Division Nabila Aslam.

Railways Minister Khawaja Saad Rafique told reporters the weather might have been a factor. "We have to investigate whether it's negligence or if it happened due to heavy fog," he added.

The motorised rickshaw was taking children to school. Seven children, the rickshaw driver and a passerby were killed and another seven people, most of them children, were wounded in the deadly crash.

Four of the fatalities belonged to one home in Basti Mimberwala village: Rizwan, 11, and Danish, 9, were real brothers, and Fahad, 12, and Mariyam, 9, were also siblings. The casualties were driven to Bahawalpur's Victoria Hospital where, according to Deputy Commissioner Shahid Niaz, some of them were in a critical condition.

Rafique said the train driver and the gateman have been taken into custody. District Police Officer Asad Sarfraz confirmed the arrests.

An inquiry has also been launched. "The inquiry committee will submit a preliminary report within 48 hours, while its complete findings will come out within a week, following which responsibility could be fixed," Rafique said.

The Jalalpur Morr crossing was manned and there was no issue with the signaling system, according to the railways spokesperson.

Currently, there are 1,433 manned and 2,382 unmanned railway crossings in the country. Deadly train accidents are common despite tall claims of the railways that its colonial-era signalling and communications systems are being overhauled.

In May 2010, a project was launched to modernise the obsolete signalling and communications system at 31 stations between Shahdra and Lodhran junctions. But the project virtually stopped in its tracks as only 20% of work has been completed in six years.

Interestingly, the project was scheduled to be completed in three years at a cost of Rs10.72 billion by a consortium of German firm Bombardier Transportation and China Railway Signal and Communication Corporation.

In the absence of a modern signalling and communications system, most train drivers and gate-men use their experience or other methods to inform about the arrival of a train at a crossing.

According to a railways official, on Lahore-Multan section many gate-men and drivers use their mobile phones to communicate with each other. Moreover, many gate-men use their experience and sixth sense to anticipate the arrival of a train at a manned crossing.

A former general manager of railways, Saeed Akhtar, told The Express Tribune that although the communications system at the railway crossings that fall within a station's limit were operational, the systems that fell under the 'block-sections' were in a poor state.

"Gate-men at block section level crossings normally don't have a proper communications system and they use their experience and other methods to secure the crossings they man. If a gate-man fails to get intimation before a train's arrival, then he waves a red flag to stop the train," Akhtar said.

About Friday's crash, he said it must be investigated why the driver and the gate-man failed to follow the SOP.

"In foggy weather conditions, a driver slows down the train, especially at crossings and blows the whistle before chugging past," he added. "In case a gate-man has to leave a crossing in emergency, he has to close the gate no matter a train is scheduled to arrive or not." (With additional input from Kashif Zafar in Bahawalpur)

Published in The Express Tribune, January 7th, 2017.
COMMENTS
Comments are moderated and generally will be posted if they are on-topic and not abusive.
For more information, please see our Comments FAQ