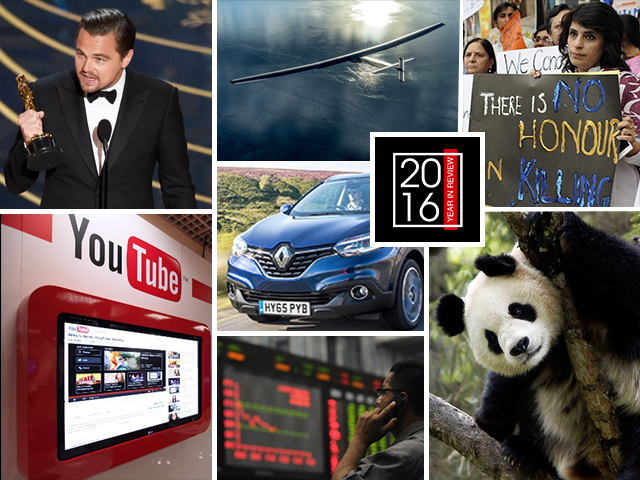 ---
Social media has been inundated with memes on how 2016 was the worst year ever.

Indeed, the world lost many beloved musicians, humanitarians, and countless opportunities to remedy what remains disconcerting. Yet, the tenacious optimists among us cannot ignore the good that happened over the year.

Here's a list of some of those things, in no particular order.

1. Punjab Protection of Women Against Violence Act

In February, Punjab Assembly unanimously passed the Protection of Women Against Violence Bill. The Act, which has 31 clauses, provides a system for complaint registration as well as penalties for offenders. While certain factions vehemently opposed it on questionable logic, the legislation made for a solid step in the protracted fight against gender-based violence.

2. YouTube ban lifted

The YouTube ban was finally lifted in January after the Google-owned company launched a local version allowing authorities to remove material deemed offensive. The ban had been in place since September 17, 2012.

3. Transgender marriage fatwa

In June, a Barelvi scholar issued a fatwa (religious edict) stating that Islam allowed transgender men to marry transgender women. While the fatwa did not pave the way for marriage equality for transgender people, in a country where religion constitutes an integral part of life, it nevertheless marked a milestone in the struggle for equal rights.

4. Bill against forced religious conversions

In November, the Sindh Assembly unanimously passed a law against forced religious conversion. According to the Act, no person shall be deemed to have changed their religion until they attain the age of 18 and any person who forcibly converts another shall be liable to imprisonment ranging from five years to life, and will have to pay a fine to the victim.

5. Emerging markets status

In June, MSCI, a leading provider of international investment decision support tools, announced that its Pakistan Index would be reclassified to Emerging Markets status. The decision is expected to generate inflows of global portfolio investment amounting to $475 million by the middle of 2017.

6. Opportunities for the automobile sector

The year also proved good in terms of interest from foreign automobile manufacturers. After wooing French automakers earlier in the year, the government in November announced that Renault would start assembling cars in Pakistan by 2018. Soon after, Ghandhara Nissan Limited confirmed that its partnership with the French carmaker would attract an investment of around $100 million.

Also in November, German automaker Audi AG expressed interest in setting up an assembly plant in Pakistan and, through its authorised importer, submitted a letter of intent to the Board of Investment for consideration.

In December, Lucky Cement said it had been planning to invest Rs12 billion to set up a plant and manufacture vehicles in partnership with South Korean auto giant Kia. The new venture will also market and sell, besides importing and exporting "all types of Kia vehicles, parts and accessories".

7. Economic outlook at six-year high

In May, the Business Confidence Index, a biannual assessment sponsored by OICCI – an association that represents 196 multinationals operating in Pakistan, stated that the economic outlook in Pakistan stood at a six-year high and was continuing to improve.

8. Leo wins Oscar

For Leonardo DiCaprio fans, 2016 will forever remain the year Leo won a much-deserved Oscar for his blockbuster movie The Revenant. This came 22 years after his first Academy Award nomination. DiCaprio received a standing ovation as he accepted the award.

The internet erupted in jubilation and a Pakistani tax official in Azad Kashmir even threw a tea party to celebrate DiCaprio's win.

9. Paris climate deal

In November, a landmark global accord to combat climate change officially entered into force, putting pressure on countries to start executing plans to slash greenhouse gas emissions to limit global warming.

The 2015 Paris Agreement was agreed last December by almost 200 countries and has been described as the most complex global treaty since the Marrakesh (trade) Agreement concluded in 1994.

10. Giant pandas no longer endangered
Decades of conservation work bore fruit this year with the giant panda downgraded from being 'endangered' to 'vulnerable' on the global list of species at risk of extinction.

11. Solar Impulse 2
A solar-powered aircraft successfully completed the first fuel-free flight around the world when it returned to Abu Dhabi after an epic 16-month voyage.

Solar Impulse 2 touched down in the United Arab Emirates capital on July 26, 2016. It first took off from Abu Dhabi on March 9, 2015. The aircraft clocked-in around 40,000 kilometres and nearly 500 hours of flying time over its historic flight.
COMMENTS
Comments are moderated and generally will be posted if they are on-topic and not abusive.
For more information, please see our Comments FAQ