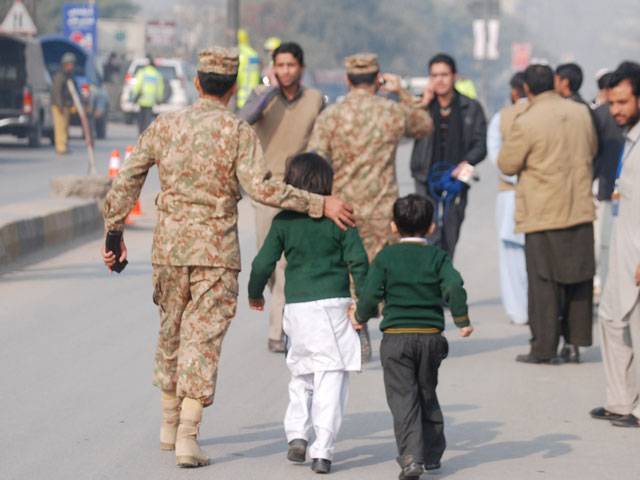 ---
PESHAWAR: In Kakshal area of the provincial metropolis located a small four-story building known as Sahibzada Omar Khan Shaheed Welfare Hospital. Spread over an area of five marlas, the hospital was inaugurated in August by around three-dozen parents of those APS students who perished in the terrorist attack on December 16, 2014.

Sahibzada, a student of grade VIII at the APS, lost his life on that dreadful day. His father established the small hospital to provide medical facility in an area where there is no government or private hospital.

APS massacre: Haunted by trauma, parents struggle to get over their loss

"I suffered a lot due to the brutal killing of my son. But in the end it helped me understand the suffering of others, too. This incident changed my entire life and the way I think, and see the things around me.

"So, I decided to establish this hospital with my own resources. Indeed, I had saved this money for the marriage of my son," said Fazal Khan advocate, the father of Omar Khan while talking to The Express Tribune.

"This is just a small effort but I am satisfied. I had this piece of land and I spent Rs20 million to construct this building. Those who cannot afford are treated free of cost in the hospital," he informed, saying the hospital was inaugurated just a few months ago by the parents of the APS victims and he had not accepted any financial help for the purpose.

"People come to us for treatment and we give them ordinary anti-biotic that work very well -- indeed like a magic. So helping such people is our real mission," he explained, adding "The hospital offers gynaecology services, laboratory tests as well as ultrasound facility."

Omar Khan was eldest son of Fazal Khan. He was just 14-year-old. "No one knows what happened to him at the school when it was attacked."

Peshawar school attack: When black display pictures say more than words

"He was in the auditorium and received four bullets on the chest and hands. I do not consider him dead. He is alive as a martyr," he said.

"Two years have passed since. I am a man and keep myself busy in court and hospital, but my wife is still struggling to recover from the shock. When she set the table for dinner or lunch, she calls Omar to come and eat. You know old habits die hard."

"I see Omar in every child," he added.

About the hanging of the terrorists involved in the APS attack, Fazal termed it a drama.

"I think the administration of the APS, provincial government and police chief and security forces are responsible for the security lapse at the APS. We call it vicarious liability in our legal terminally. How can the governor, chief minister and even the president and prime minister walk away from it," stressed Fazal.

"Some people are doing business in the name of our children which is more than unfortunate," he added.
COMMENTS
Comments are moderated and generally will be posted if they are on-topic and not abusive.
For more information, please see our Comments FAQ