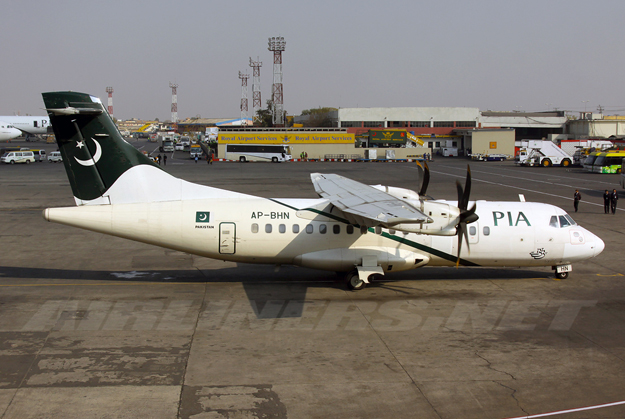 ---
Pakistan International Airlines (PIA) announced early on Monday that its flight PK-581 from Multan to Karachi had been delayed on account of a technical issue.

In a statement, the national flag-carrier contradicted media reports claiming that an engine of the aircraft had caught fire. "Neither of the two engines of PK-581 caught fire and pilots on the advice of ATC, decided not to take off," PIA Spokesperson Danyal Gilani said.

PIA temporarily grounds all ATR aircraft

"A team of engineers is being sent to Multan and aircraft would be made operational after its clearance," he added.


Contrary to media reports neither of the 2 engines of PK-581 caught fire & pilots on the advice of ATC, decided not to take off #tags pic.twitter.com/fYy8wrrdrm

— Danyal Gilani (@DanyalGilani) December 11, 2016


Earlier, a Facebook post surfaced in which a woman claimed her husband, who was travelling on flight PK-581, had alerted an air hostess after seeing the engine of the aircraft on fire. She said her husband had forced other passengers to take action to prevent the flight from taking off after the air hostess tried to placate him.

[fbpost link="https://www.facebook.com/muniza.durrani/posts/10154437511543005"]

She further claimed that passengers were initially supposed to fly on a Boeing aircraft and were later "forced to travel through this defected ATR, as there was some technical fault."

Defies common sense that pilots will fly aircraft with defects: PIA

"I think PIA shall be closed ... they don't care about our lives ... all they care about is making money even if it cost human live(s). PIA is certainly not a Pakistan International Airline as they don't care about us Pakistanis," she concluded.

Later on Monday morning, the national flag-carrier announced it had temporarily suspended all ATR operations after a crash last week killed 47 people and a second aircraft reported technical issues shortly before take off.

In view of Civil Aviation Authority's decision of holding shakedown tests of PIA's entire ATR fleet, it has been decided to keep all 10 ATR aircraft grounded till they are cleared after thorough examination, a press release from the airline read.
COMMENTS
Comments are moderated and generally will be posted if they are on-topic and not abusive.
For more information, please see our Comments FAQ