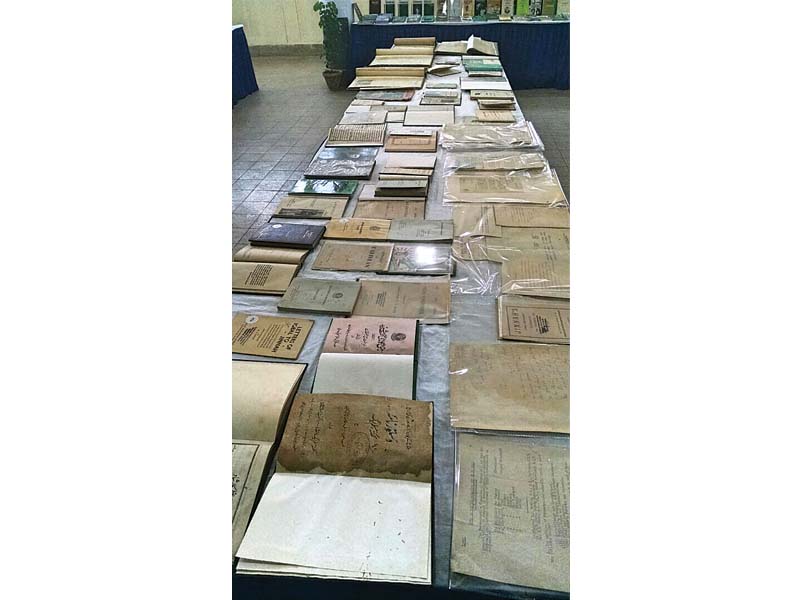 ---
KARACHI: The books, newspaper cuttings, speeches, letters and excerpts from Mohammad Ali Jinnah's personal collections, which are on display at Karachi University's Dr Mahmud Hussain Library, provides an opportunity for the public to go back in time and take a glance into Quaid-i-Azam's life.

The two-day exhibition, which will end today, is open for students, faculty and the public from 10:30am till 5pm. Around 1,000 rare and new books of Quaid-i-Azam, related to freedom movement and Pakistan, are on display at the exhibition held at the university's main library.




The display has been organised by the university in collaboration with the Bhittai Rangers, Sindh. The exhibition has been held in connection with the month-long celebrations of Quaid-i-Azam's birthday by Pakistan Rangers, Sindh. However, the inauguration ceremony of the celebration was cancelled to express solidarity with the Pakistan International Airline plane crash.

"We have displayed very few and rare documents belonging to Jinnah sahab," said library incharge Malahat Kareem. He added that they have Jinnah's signed books, freedom movement speeches, books on Pakistan, newspapers, special numbers and clippings on display for the visitors. Showing the special editions on Jinnah, the library's freedom movement and archives section incharge, Kaneez Fatima, said they have also started digitising the documents and have on display all the pictures and speeches of the presidential sessions that Jinnah delivered in All India Muslim League.

The exhibition not only has Jinnah's documents and books but his rare pictures from different occasions are also on display. "We have archived the newspapers clippings from 1937 to 1948 so that students and researchers can get inspired by the freedom fight of the independence war," Kaneez said.

Quaid-i-Azam section

Along with 1,135 books that were personally owned by Jinnah, the library has a section entirely dedicated to Quaid-i-Azam on the first floor. The section has a collection of around 5,000 documents that includes books, letters, photographs and his personal collection on literature.

"The books, along with the furniture that includes 12 shelves, racks and tables, were donated to the Quaid-i-Azam section after Fatima Jinnah's death in 1967," said Quaid-i-Azam section incharge Nargis Fatima. A few sections of his collections were also donated to the Hamdard and Quaid-i-Azam academies. The section also has books that were gifted to Jinnah by Mahatma Gandhi and Ruttie Jinnah, she claimed, adding that those books have their signatures, too. Around 100 pictures of Jinnah from different events and 12 letters, including the ones he wrote to some dignitaries and those that people wrote to him, are also on display.




The library has started the digitisation of the books that are stored in this section and has started making an online collection. "We have entered more than 500 books online up till now on software Koha," the incharge said. "He had majority of books on law and English," she added.

However, only research students have access to these books in Jinnah's rare collection section. "The research students are not allowed to issue the books but can only study within the premises of the section," said Nargis, adding that the collection is precious and old, which is why it is not allowed for everyone as it can be damaged.

Published in The Express Tribune, December 9th, 2016.

 
COMMENTS
Comments are moderated and generally will be posted if they are on-topic and not abusive.
For more information, please see our Comments FAQ