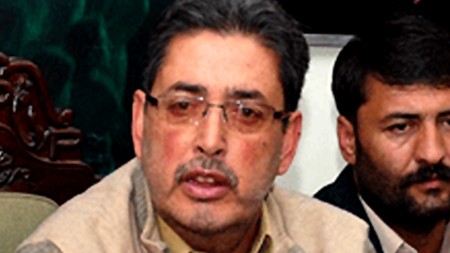 ---
GILGIT: Gilgit-Baltistan Chief Minister Mehdi Shah on Tuesday asked mainstream opposition leaders – including PML-N chief Nawaz Sharif and PML-Q lawmaker Marvi Memon – to join relief efforts in Hunza Valley instead of criticising the government.

Speaking to journalists in Skardu on Tuesday, Shah ruled out the possibility of the 15-kilometre long artificial lake bursting its banks. "Some anti-government elements are spreading rumours to incite people against the government, he said. Shah appealed to people not to listen to these rumours which were being spread to weaken the PPP-led government. "Instead of paying lip service, they (Nawaz Sharif and Marvi Memon) should come here and join the government's relief efforts," he said.

PML-Q lawmaker Marvi Memon earlier on Tuesday blamed the government for what she called precarious situation in the region. She said the government's apathy had turned a small lake into a huge dam which was now threatening a huge population. However, Chief Minister Shah rejected Marvi's criticism, saying that President Asif Zardari was being updated on the situation on a daily basis. He said that the government was making all possible efforts to make sure that local people did not suffer.

"It's a natural calamity for which the PPP government cannot be blamed," he said of the January 4 massive landslide that had blocked the flow of the Hunza River at Attabad, killing 19 people and creating an artificial lake. Water level is rapidly rising in the lake, threatening several downstream villages in the region. Earlier on Tuesday a delegation of local residents from the Hunza-Gojal area called on Governor Dr Shamma Khalid at his office. Speaker Gilgit- Baltistan, a native of Hunza, led the delegation who apprised the governor of the hardship being faced by local residents in the aftermath of the disaster.

The governor assured the delegation of complete support on behalf of the government. President Seeks Report In Islamabad, meanwhile, President Asif Ali Zardari on Tuesday sought a report from the Gilgit-Baltistan governor on relief and rehabilitation measures being taken for the people affected by the landslide. Referring to a possible breach in the dam, the president said the authorities must be prepared in advance to meet any eventuality and ensure that there was no loss of life. He assured that the government would do its best to provide shelter, food and medical help for the displaced people through the National Disaster Management Authority (NDMA).(ADDITIONAL INPUT FROM APP)

Published in the Express Tribune, May 12th, 2010.
COMMENTS (2)
Comments are moderated and generally will be posted if they are on-topic and not abusive.
For more information, please see our Comments FAQ