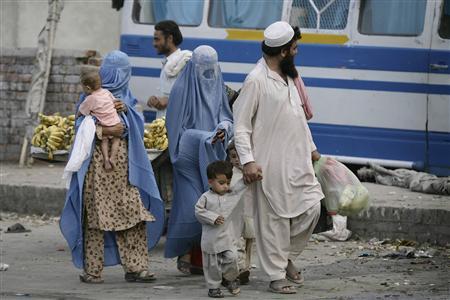 ---
ISLAMABAD: Succumbing to the pressure of political parties, the government is considering for the fifth time an extension in the stay of Afghan refugees in two phases till 2018.

As the voluntary repatriations came to a halt on Friday for a routine winter break, the government is likely to formally announce another extension in plans for the return of refugees.

Over 350,000 Afghan refugees return from Pakistan: UN

According to the population profile of the Ministry of States and Frontier Regions (Safron), there are about 1.3 million refugees holding Proof of Registration (PoR) cards while about 0.6 million are unregistered. Similarly, only about 33% are residing in camps while 67% are off-camps.

Among them, 74% refugees were born in Pakistan and about 70% of them are below the age of 24.

The repatriation drive gained momentum when earlier this year the government of Khyber-Pakhtunkhwa (K-P) urged the federal government to send back the refugees to Afghanistan.

The year 2016 saw 381,246 or the maximum number of refugees return to their country. The spike in returns coincides with the introduction of tighter border management controls at the Torkham border between Pakistan and Afghanistan on June 1.

Two-year plan

The Safron ministry recently shared a document with the members of an all parties' conference (APC) at the ministry where the plan for repatriation was discussed and agreed upon.

The APC was held after the federal cabinet on November 9 proposed that the Safron ministry create consensus among political parties about the extension date. A broad consensus was reached for extension of the PoR cards till December 2017.

Pakistan an exemplary host to Afghan refugees, says UNHCR rep

According to the documents available with The Express Tribune, the ministry has recommended to the cabinet that "if the repatriation factors remain constant, the remaining population of less than 5,00,000 registered refugees will be dealt in 2018."

The document states that the announcement of second phase in December 2018 may be announced towards the end of 2017. The summary was forwarded to the cabinet on November 17 which is likely to approve the first phase of extension it in its next meeting.

Besides, it was suggested that till completion of documentation process by the National Database Regulatory Authority (NADRA), harassment of unregistered Afghans and deportation under section 14 of the Foreigners Act 1946 may be avoided. The ministry hopes that about 640,000 refugees will return in 2017 and the year will be declared as the year of solutions and repatriation.

Published in The Express Tribune, December 4th, 2016.