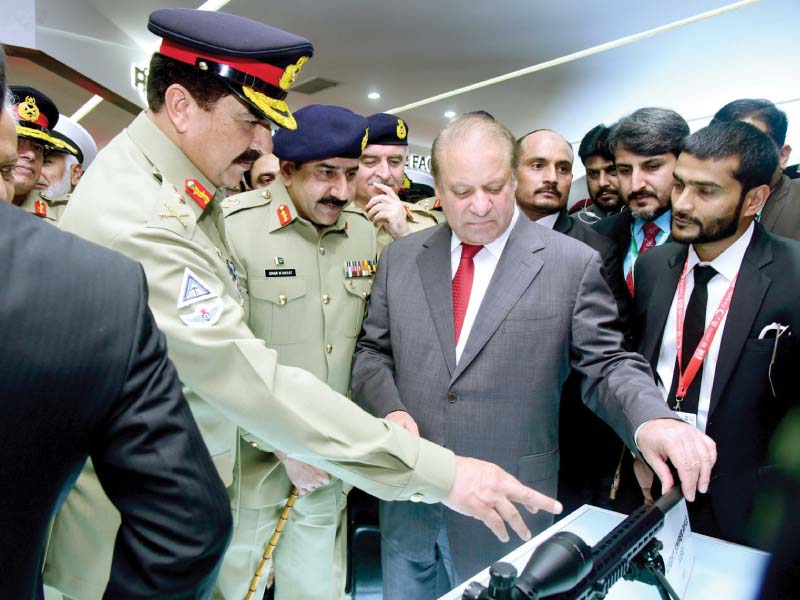 ---
KARACHI: Kicking off the ninth Inter­national Defence Exhibition and Seminar (IDEAS) in Karachi, Prime Minister Nawaz Sharif on Tuesday said Pakistan is against an arms race in the region but will pursue the motto of 'arms for peace'.

"Pakistan is committed to discouraging arms race and promoting the motto of arms for peace, which has always been the tagline of IDEAS," Nawaz said while addressing the inauguration ceremony of the four-day defence exhibition. "We will explore the way forward for peace and stability in the world in general and our region in particular," he added.

The prime minister said Pakistan has achieved self-reliance in defence production, adding that IDEAS-2016 is a demonstration of collaboration of local and foreign technologies.

PM, Army chief attend 9th IDEAS exhibition in Karachi

"Over 2,000 weapons systems and equipment on display at the exhibition reflect broad-based participation of the country's public and private sectors in defence production, supported by research and development," he said.

The premier said the country's defence products are state-of-the-art and stood fully tested by its armed forces. "Our defence products have made their mark in many countries of the world," he said, adding there still exist many opportunities for further growth and exploration of new markets.

He said Pakistan is a fast emerging producer of quality defence products. "The promise of today's Pakistan is brighter and reassuring than ever before," he said.  The prime minister invited foreign companies to expand their business linkages with Pakistan in the field of defence production.

Nawaz Sharif said the environment for foreign investment is encouraging in the country in view of improved law and order situation, besides power projects being completed on time.

He congratulated the organisers of sideline conferences during IDEAS 2016, which he said would facilitate in exchanging technologies for mutual benefit and bringing together buyers and sellers. "This is one of the core objectives of the country's defence exhibitions," he added.

Later, Nawaz Sharif –flanked by Defence Minister Khwaja Asif, Chief of Army Staff General Raheel Sharif, Chief of Naval Staff (CNS) Admiral Mohammad Zakaullah and Chief of the Air Staff Air Chief Marshal Sohail Aman – inaugurated the exhibition.

Besides diplomats from various countries, a large number of foreign exhibitors, representatives of local companies engaged in defence production and officials of three armed forces were also present.

He also visited the stalls where major indigenously developed products have been showcased including battle tank Al-Khalid, JF-17 Thunder, Super Mushshak and K-8 aircraft, Fast Attack Craft Missile boats, armoured personnel carriers and military hardware.

The premier was apprised that defence industries of Turkey, China, Russia, North America, South America, Europe and Asia have a significant presence at the exhibition, while nine more countries are participating this time. These include Belarus, Poland, Czech Republic, Belgium, Luxembourg, Denmark, Switzerland, Romania and Nigeria.

Defence prowess to be showcased at IDEAS 2016

At the stall of Ukraine Defence Ministry, the PM was welcomed by Ukraine Defence Minister and army chief General Stepan Poltorak along with Ukraine's Ambassador to Pakistan Voldymyr Lakomov, Ukraine's Consul General in Karachi MA Jabbar.

Before leaving the venue, the prime minister also witnessed the ceremony where memoranda of understanding were signed among different companies. Thirty-four countries and a total of 418 companies are participating in IDEAS 2016, including 261 foreign and 157 Pakistani companies.

Chinese and Turkish exhibitors have been allotted separate pavilions to showcase their defence equipment. The number of Russian exhibitors has increased from one to three this year. Russian state-controlled arms' import and export firm, Russia Rosoboronexport is among them.

The events are scheduled to witness some 14 memorandum of understanding to promote defence exports and start joint venture with foreign delegates and exhibitors. The exhibition will continue till November 25.

Sindh CM receives premier

Earlier, the premier was received at the Old Terminals by Sindh Chief Minister Murad Ali Shah, who also accompanied him to the Ideas 2016 Defence Exhibition.

Speaking on the occasion, Shah said the targeted operation, launched in Karachi in September 2013 against outlaws and terrorists, had produced congenial results. "Today national and international organisations have regained their confidence in this city, which is very encouraging," he said.

Nawaz Sharif and Sindh CM later went to the South City Hospital to inquire after the health of Sindh Governor Justice (retd) Saeeduzaman Siddiqui. The PM expressed his wishes to Siddiqui who fell ill after taking oath as the province's new ceremonial chief. [WITH ADDITIONAL INPUT FROM APP]

Published in The Express Tribune, November 23rd, 2016.