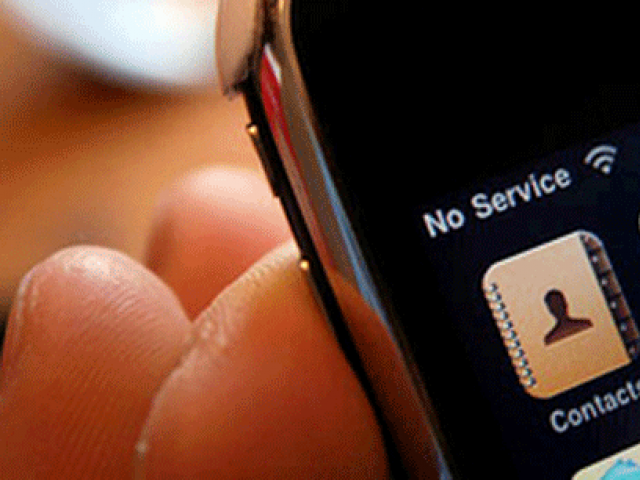 ---
Mobile phone services were suspended in parts of Pakistan on Monday as part of a security plan for the Chehlum of Hazrat Imam Hussain.

Services were suspended in Karachi and other districts of the province as well as Peshawar, Gilgit-Baltistan and Lahore.

The services will remain suspended from noon to 10:00pm to prevent any untoward incident.

The measure was reportedly taken on the recommendations of security agencies while Pakistan Telecommunication Authority (PTA) was also taken into confidence in this regard.

Traffic plan for Chehlum issued

Meanwhile, police took some 150 people into custody s in Karachi over violation of a ban on pillion riding. The ban was earlier imposed in the metropolis to ensure security during the religious event.

Security plan in Peshawar

More than 3,400 police personnel will provide security in Peshawar during the Chehlum for three main processions in the provincial capital. According to senior superintendent police (SSP) Sajjad Khan, the routes for the procession have been cleared by the bomb disposal unit.

Security has been tightened in the metropolis while Pakistan Army will also be on standby as a quick response force, he added. The SP highlighted that police search operations are also underway in border areas along the tribal belt [in view of Chehlum].

Traffic plan in Karachi

The Chehlum procession will be carried out from Nishtar Park to Hussainian Iranian Imambargah Kharadar, according to a press statement issued by Karachi traffic police.

Chehlum procession concludes peacefully in capital

The route of the main procession will be from Nishtar Park, passing through Sir Shah Nawaz Bhutto Road, Father Jaminis Road, Mehfil-e-Shah-e-Khurasan, MA Jinnah Road and Preedy Street. The procession will then turn back to MA Jinnah Road, towards Bolton Market, Bombay Bazar, Kharadar and will finally culminate at Hussainian Iranian Imambargah in Kharadar.

As soon as the procession will start from Nishtar Park, all vehicular traffic coming from the city side will be diverted towards Soldier Bazaar Road from the junction of MA Jinnah Road and the Dr Dawood Pota Road.
COMMENTS
Comments are moderated and generally will be posted if they are on-topic and not abusive.
For more information, please see our Comments FAQ