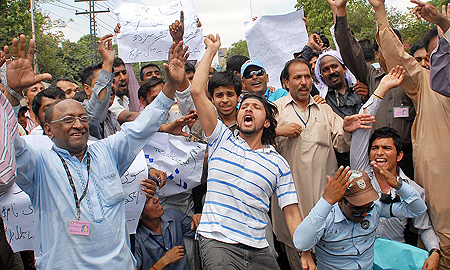 ---
SUKKUR: After protesting against rolling power breakdowns throughout the summer, the people of Sukkur have now begun protesting against the low pressure or closure of gas, especially during cooking hours.

The Sui Southern Gas Company (SSGC) has started testing the endurance of the people by lowering the gas pressure to almost zero during cooking hours. In the morning, gas supply remains very low from 8am till noon and then the pressure is increased slightly till 3pm and then reduced again till 7pm. After 7pm, the pressure is increased slightly and again reduced to zero from 10pm till morning.

On Thursday, scores of residents from different localities, including Shalimar, Queen's Road, Ayub Gate and Station Road, staged a demonstration against the SSGC. Women complained of very low pressure and the closure of gas supply during cooking hours and said their children often have to leave for school without having breakfast and when they return home they have to wait very long for their meals.




Yasmin, a resident of Ayub Gate, said that there is no gas at all throughout the night in their locality.

Mohammad Ayub, a fruit vendor, said, "Most of the time, we have to bring food from a hotel, which is an extra burden on our pockets. Our children mostly go to school without breakfast and eat at school, but on return they immediately demand lunch, which most of the time takes longer than normal to serve. We cannot afford to buy liquefied natural gas cylinders and, therefore, sometimes burn wood to prepare meals."

Similar is the situation at hotels, where owners are forced to burn wood despite having to pay heavy bills to the gas company at commercial rates. The president of the Hotel Sher Maal Association, Sukkur, Shafiq Ahmed Munna, said hotel owners are paying the highest tariff rate to the SSGC at the rate of Rs30 per unit while domestic consumers pay Rs6 per unit. But despite this, he said, they do not get sufficient gas pressure.

"We tried to use wood but the nearby shopkeepers and residents objected due to heavy smoke," he said. "Therefore, we are forced to use [liquefied petroleum gas] LPG cylinders, which are very costly and hazardous. We have often requested SSGC authorities to provide us with a separate commercial line but to no avail."

According to him, the gas pressure is too low and customers are always in a hurry, which is why they are using costly fuel to run their businesses. For his part, Haji Faisal Ameen, who is a member of the Hotel Sher Maal Association and also runs Pakwan House, said that he, too, is forced to use wood.

Counter narrative

SSGC, Sukkur, regional manager Aziz Abro said the gas pressure has been reduced due to theft. "Gas pressure is full during cooking hours and reduced during off-peak hours," he claimed, adding that many people are using compressors to enhance gas pressure, which is why other consumers receive very low pressure.

Compressors are easily available in the market and are sold openly. No action has been taken against the sale of compressors, despite SSGC's claims.

Published in The Express Tribune, November 18th, 2016.

 
COMMENTS
Comments are moderated and generally will be posted if they are on-topic and not abusive.
For more information, please see our Comments FAQ