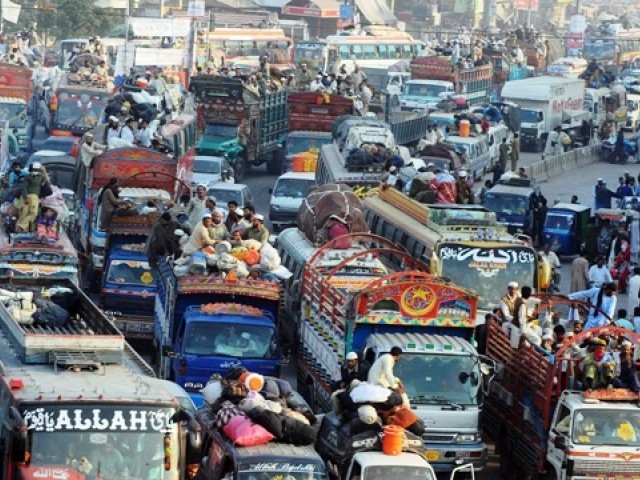 ---
LAHORE: Thousands of Muslims from various parts of Pakistan and neighbouring countries have arrived in Lahore for the annual Raiwind congregation known as Tablighi Ijtema that began on Thursday.

The annual congregation was inaugurated with religious fervour after Asr prayer with several famous Qaris reciting versus from the Holy Quran. Maulana Nazur Rehman and Maulana Ibrahim delivered speeches after Asr and Maghrib prayers, respectively, and discussed the role of Islam in various aspects of life.

According to the schedule for Friday (today), Haji Abdul Wahab will deliver the speech (bayan) after Fajr prayer; Maulana Tariq Jameel after the Jumma prayer; Maulana Yaqoob after Asr prayer; and Maulana Ahmed Laat will address the participants after the Maghrib prayer.

On Saturday, Maulana Abdul Rehman will deliver the speech after Fajr prayer; Bhai Farooq after Zuhr prayer; Maulana Zuhairul Hasan after Asr prayer; and Maulana Ibrahim after the Maghrib prayer.

On the last day (Sunday), Maulana Khursheed will deliver his speech on hidaayaat after which a dua will be offered by Haji Abdul Wahab.

The Raiwind congregation is considered the biggest religious gathering of Muslims after Hajj.

The Ijtema is organised in two phases due to space constraints. Devotees from Lahore, Multan, Peshawar, Quetta and their adjoining cities and areas are participating in the first phase of the religious congregation that will conclude on Sunday. The second phase will be held from November 10 to November 13.

People from India, Bangladesh, Sri Lanka, Afghanistan and several other countries have already reached Lahore to attend the annual religious gathering.

Though conventional media is not allowed to cover the Raiwind congregation, this year the management has made arrangements for live broadcast on social media through Facebook to provide an opportunity to people across the world to participate remotely.

Traffic Mess

Massive gridlocks were witnessed at Lahore's entry points, especially on Raiwind-Manga Road and Multan Road. Queues of buses were seen on the roads as the Motorway Police and city traffic police failed to manage the oncoming rush.

Speaking to The Express Tribune, a participant from Bahawalnagar, , Hukum Din, said their bus was stuck in a traffic jam for three hours. Though the congregation venue was a few kilometres away, several people decided to walk to the place instead of waiting in buses.

A participant from Multan, Muhammad Afzal, said despite being an annual event for the past many years, people still had to face immense difficulties in coming to Raiwind.

"Authorities should make proper arrangements or make some alternate route for the congregation," he added.

Published in The Express Tribune, November 4th, 2016.