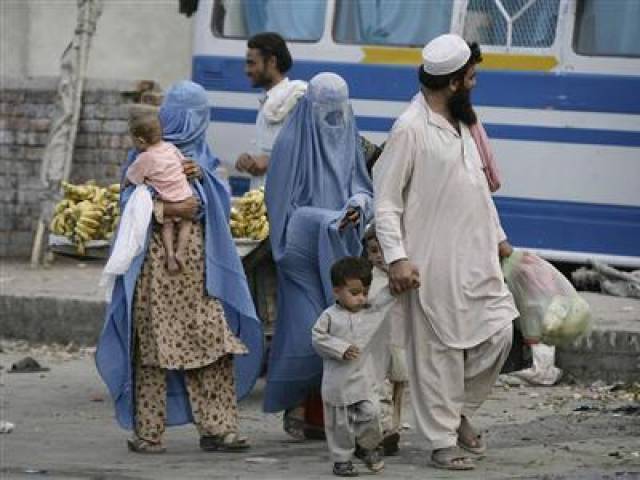 ---
ISLAMABAD: Some 100,000 Afghan refugees are expected to leave Pakistan by the end of November, a senior Pakistani official said on Monday.

Already close to half a million Afghan refugees have been repatriated to their homeland, Chief Commissioner for Afghan Refugees Dr Imran Zaib told The Express Tribune. The figure includes 270,000 registered and 200,000 unregistered refugees who have voluntarily returned to Afghanistan. "Another 100,000 refugees are scheduled to leave the country by the end of November," he added.

Although Khyber-Pakhtunkhwa is the main province from where Afghan refugees are heading out, their exodus covers almost all parts of the country.

This year the number of returnees is much higher than last year when only 58,000 refugees were repatriated from Pakistan, the senior official said.

He voiced concern about Kabul's alleged inefficiency and planning glitches in absorbing the returnees and helping them resettle.

In view of the stability threats in Afghanistan, Islamabad has urged Kabul and relevant world bodies to extend the required assistance to the returnees, according to Dr Zaib.

With winter fast approaching, he said, the scale of problems faced by the returnees can only increase especially if the Afghan authorities and concerned world organisations failed to devise solutions in time.

According to the United Nations High Commissioner for Refugees (UNHCR) record, Pakistan has hosted 1.6 million registered Afghan refugees over the past three decades. Officials of Chief Commissioner Secretariat said that over one million unregistered Afghan refugees are also residing in different parts on the country. Dr Zaib said that the total number of registered and unregistered refugees is decreasing with the repartition every day, and it is expected that all refugees will leave by the end of the new deadline.

Last month, the government extended the stay of the Afghan refugees until March 2017. The extension, according to Dr Zaib, has helped Afghan refugees to dispose of their properties on reasonable terms and conditions.

About the blocking of fake CNIC's that were obtained by a large number of Afghan refugees, the chief commissioner said that many of those holders have willingly returned their fake CNICs . He expressed hope that many more will give back their fake cards in the coming weeks.

It is unclear how many refugees had obtained forged CNICs in the past but the chief commissioner claimed the number was not very high. According to him, the majority of such card holders were found in Balochistan.

NADRA officials, however, stated that the Afghan refugees had no option but to give back their bogus CNICs as their bank accounts, Pakistani passports and driving licences will automatically become dysfunctional once their forged CNICs are blocked.

Published in The Express Tribune, October 25th, 2016.
COMMENTS
Comments are moderated and generally will be posted if they are on-topic and not abusive.
For more information, please see our Comments FAQ