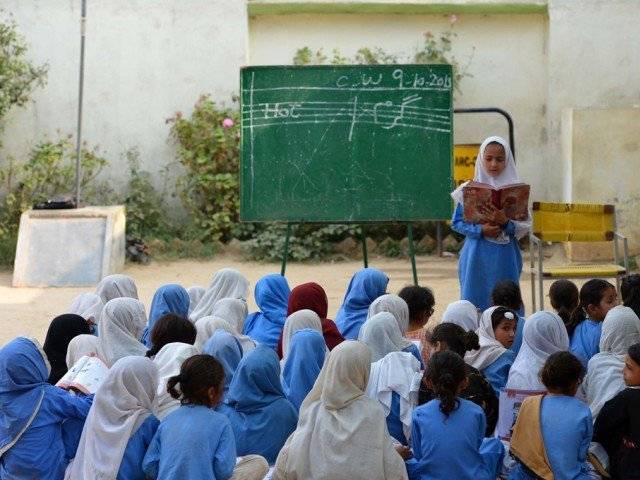 ---
KARACHI: As the world celebrates Global Handwashing Day today, children in Sindh are denied the opportunity as over 10,000 schools across the province have no lavatories.

The day is celebrated annually to mobilise people to improve their hand washing habits but the provincial government does not arrange any programmes in schools to teach students the importance of this habit.

US bans antibacterial soap chemicals over health risks

According to official figures, around 10,000 schools are deprived of water and sanitation facilities in the province.

Challenging the figure, Pakistan Muslim League-Functional's Nand Kumar says "The number exceeds 20,000. The government is hiding the facts."

"Government has announced an education emergency, but unfortunately many large schools still have no toilets.

This is disgraceful," remarked Kumar, who has drafted an adjournment motion to move in the provincial assembly on this issue.




There are a total of 46,039 schools in Sindh.

Earlier, then education minister Nisar Khuhro had announced that the government will ensure toilets at 300 schools by June 2015. However, the ground realities revealed that even this target was not achieved.

According to the latest report of Alif Ailan, a non-profit organisation working in the field of education in Pakistan, the provincial ranking based on school infrastructure has not changed since last year.  In its report, Sindh has been given 46 and 51 score in terms of missing water and sanitation provision in government schools.

Sindh Primary Teachers Association leader Liaquat Deedar diverted the attention towards hundreds of government schools which have toilets but remain non-functional due to lack of water supply.

"Except for some major cities, the teachers and students both are victims of the government's poor policies to bring reforms in the sector," he said.

Many students in rural areas defecate in the bushes, forest or open areas near their schools creating environmental and health hazards. The world is working on innovative ideas and people [in Sindh] are still struggling for their basic rights," said Awami Jamhori Party leader Harif Chandio.

Road to improvement

According to provincial education officials, the government has inked an agreement with the World Bank to ensure provision of lavatories in public schools.

Unhygienic conditions: 4 factories, 7 food outlets sealed

"We have started this project with Rs2 billion and by the end of this year lots of schools will be covered," said education minister Jam Mahtab Dahr, adding that they devised a comprehensive plan by listing down all the schools in the province.

Almost all schools in the province will be equipped with these facilities, he added.

Published in The Express Tribune, October 15th, 2016.
COMMENTS (1)
Comments are moderated and generally will be posted if they are on-topic and not abusive.
For more information, please see our Comments FAQ