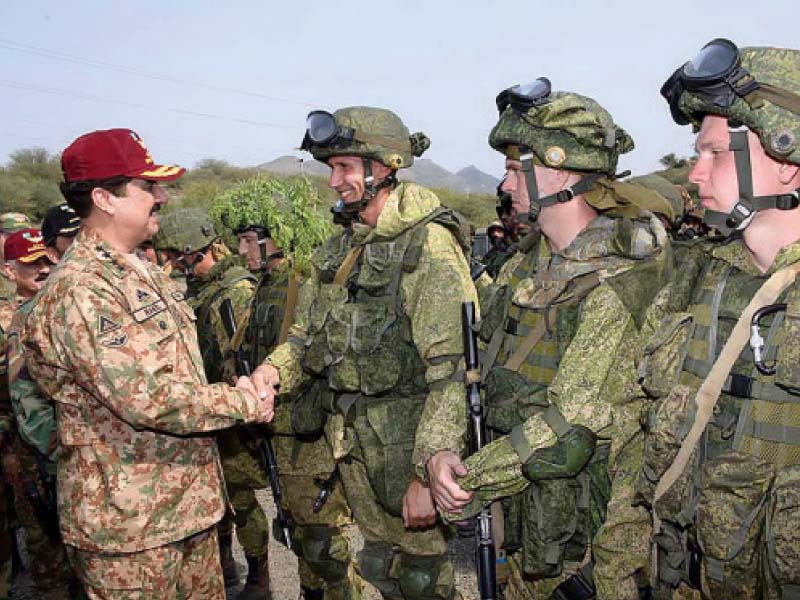 ---
ISLAMABAD: Army chief General Raheel Sharif castigated India on Thursday for spreading a 'litany of falsehoods' and 'distorting facts' about the situation inside Indian-Occupied Kashmir (IOK) and along the Line of Control (LoC), and warned that any aggression or 'strategic miscalculation' against Pakistan will not go unpunished.

"While Pakistan wants good relations with all its neighbours, no one should make any mistakes about our collective resolve to defend our motherland," he said at the passing-out ceremony of Pakistan Air Force cadets in Risalpur.

Speaking against the backdrop of deepening tensions with India, Gen Raheel made it clear that any aggression, born out of deliberate intent or even a strategic miscalculation, will not be allowed to go unpunished and will be met with the most befitting response.

"We will be highly relentless in defending our motherland against the entire spectrum of threat," he cautioned India just days after it claimed to have conducted 'surgical strikes' inside Azad Jammu and Kashmir (AJK).
He said India's claims showed an unfortunate display of utter desperation playing out inside IOK and along LoC through a 'litany of falsehoods and distortion of facts by India.'

"We expect the international community to condemn Indian insinuations and fabrications about a nation that has made unparalleled contributions in the global fight against terrorism," the army chief demanded.

Gen Raheel said Pakistan is a responsible country and remains committed to following the policy of friendship with all other countries based on the principles of equality and mutual respect. "While doing so, the armed forces of Pakistan remain fully prepared to give the most befitting response to any kind of internal and external threat posed to our nation," he added.

The army chief said Pakistan had achieved phenomenal success in uprooting the terrorist infrastructure from its soil. "For sustainable peace, we are now engaged in eliminating the residual threat in the form of facilitators and their sympathisers through intelligence-based and combing operations all across the country."

He pointed out that the enemies of Pakistan's peace and prosperity had been distressed by the sight of the country's successes. "These enemies will now attempt to accelerate their efforts to reverse our gains and derail our progress through direct and indirect strategies," he said. "Their nefarious designs will not be allowed to succeed at any cost. Resolute efforts to consolidate our gains is the only way forward for which we will not leave any stone unturned."

Gen Raheel said Operation Zarb-e-Azb, with full support from PAF, had successfully turned the tide against terrorism. "Its role has been crucial in achieving our objectives to root out the menace of terrorism." He said "the exemplary synergy and cooperation between the services which is leading us to stability in a short time, is unique in this type of warfare. It is a value which we must all cherish, and carry forward, with even deeper commitment in the future."

"Ongoing Exercise High Mark is a vivid demonstration of PAF's preparedness for war and its capability to optimise the available resources through imaginative planning and effective execution," he added.

Gen Raheel also visited the field area near Attock and witnessed the ongoing Pakistan-Russia joint exercise on Thursday. The army chief met participating troops and appreciated their professionalism, skills and dedication.

Paying tributes to both the armies, the army chief said such joint military exercises will provide an excellent opportunity to participating troops to learn from each other's experience in the counterterrorism domain.

Stop bloodshed in IOK: Pakistan

Speaking at his weekly news briefing, Foreign Office spokesperson Nafees Zakaria on Thursday urged the United Nations Security Council (UNSC) to help prevent what he called a humanitarian catastrophe in IOK.

As tensions continue to rise between the two countries, Zakaria said the international community should take urgent notice of 'genocide and crimes against humanity' being committed by Indian forces. He said around 110 civilians had been killed and 1,500 injured by Indian forces. He also pointed out that entire leadership of the All Parties Hurriyat Conference (APHC) has been put behind bar and is being subjected to inhuman treatment.

Zakaria said Pakistan is closely monitoring India's threatening statements and posture on Indus Basin Treaty and will respond firmly to safeguard national interests. On Indian claims of 'surgical strikes', the spokesperson accused Delhi of falsified and irresponsible statements, and warned that such statements could only escalate tensions and were indeed a threat to regional peace and security, which India sought to create on purpose.

In a separate statement, foreign ministry dismissed a report by CNN News 18 – an Indian affiliate of CNN International – based on a forged interview of AJK Special Branch SP Ghulam Akbar, in which he supposedly confirmed India's surgical strike. The reporter himself impersonated the inspector general of Punjab police.

The statement said SP Ghulam Akbar had categorically denied having spoken over the phone and that it was not even his voice on the recording run by the said Indian TV channel. "It is highly regrettable that the said Indian TV channel, affiliated to a world renowned media house CNN, indulged in an unethical and fraudulent act," the statement said.  It further said Pakistan strongly denounced Indian media's despicable act of fraud of airing of a fake programme aimed at twisting and fabricating stories for domestic political consumption.

"This is a clear indication that certain quarters in India are desperate to prove India's false claim of surgical strike by hook or by crook," Zakaria pointed out. "We hope that CNN will take up the matter very seriously with the affiliate Indian TV channel and initiate action against the channel, as not doing so will be regarded as directly owning to this unethical and manipulative act. We reserve the right to take necessary legal action against the said TV channel," the spokesperson said.

Published in The Express Tribune, October 7th, 2016.