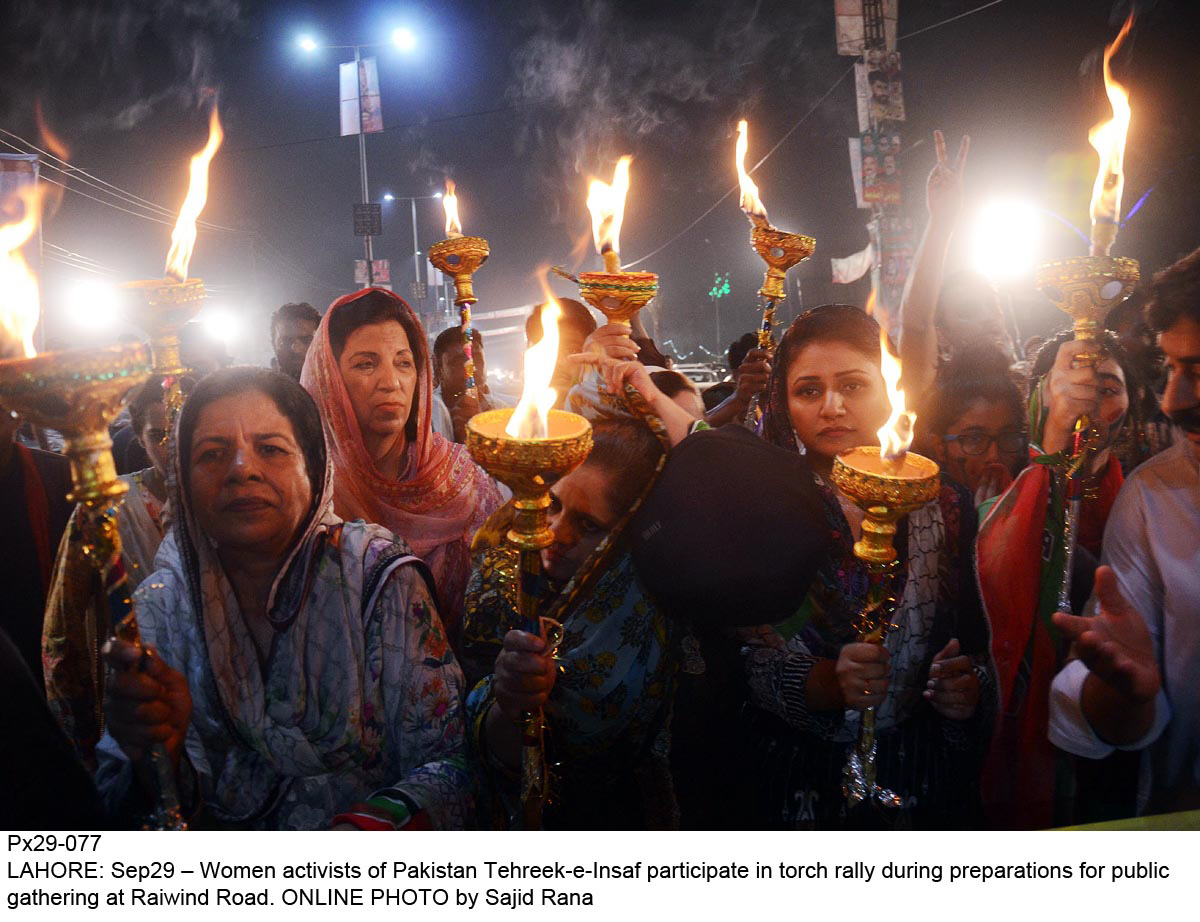 ---
LAHORE: Adopting a new strategy to avoid harassment of women at today's Raiwind march, the Pakistan Tehreek-e-Insaf (PTI) has reserved separate entry and exit points for its female supporters at the venue.

For families and women, entry points, the sitting and parking areas will all be different with a separate medical booth as well. Women and families will enter the venue through Valencia, Khayaban-e-Amin Road.

The enclosure dedicated for women would be cordoned off from the rest of the crowd, said PTI leader Dr Zarqa Tahir, who previously served the party's women wing. PTI Women Wing Punjab President Saloni Bokhari said an administrative committee has been formed for coordinating with women workers, who have confirmed their participation in the rally so far. The committee will be sending messages on cellphones accordingly for detailed coordination and directions.

A management committee has also been formed which will reach the venue at around 6pm for facilitating and guiding participants. "We are specifically taking care of women participants coming from other cities, by accommodating them at various spots for rest and refreshments," Saloni said.




The PTI leader added the party planned to install directions to the left side of the stage so that women could easily navigate to the spot. "We do not trust the Punjab police, therefore we are relying on volunteers from the PTI's youth wing to ensure security of that section," she said.

PTI Youth Wing President Rabia Aslam said several measures were taken before every rally, however, this time a detailed coordination and security plan has been formulated.

Aaliya Hamza, an office-bearer from Lahore, is hopeful of an increase in number of women participating in the event.  "We've prepared female and male volunteers to ensure the plan is followed extensively," she said.

Imran Khan's party has often been criticised for poor security arrangements for women, who have suffered at the hands of unruly activists. Video clips have made rounds on social media showing women being beaten to the ground or pushed onto barbed wires.

Published in The Express Tribune, September 30th, 2016.