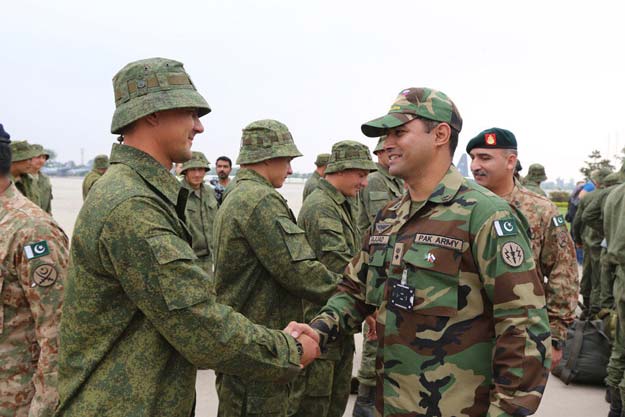 ---
In a first, Russian forces arrived in Pakistan on Friday to participate in joint military exercises.

"A contingent of Russian ground forces arrived in Pakistan for first ever Pak- Russian joint exercise (two weeks) from September 24 to October 10," DG ISPR Lt-Gen Asim Bajwa tweeted.

In a first, Pakistan, Russia to hold joint war games


A contingent of Russian ground forces arrived Pak for 1st ever Pak- Russian joint exercise (2 weeks) from 24 Sep to 10 Oct 2016 pic.twitter.com/eWzQMlENL6

— Gen(R) Asim Saleem Bajwa (@AsimBajwaISPR) September 23, 2016


The Russian troops will be in the country for two weeks from September 24 to October 10. The joint military drill is seen as another step in growing military-to-military cooperation, indicating a steady growth in bilateral relationship between the two countries, whose ties had been marred by Cold War rivalry for decades.

Following the Uri attack in held-Kashmir, several Indian news sources claimed that Russia had called off the joint war games with Pakistan. However, Pakistan's Ambassador to Russia Qazi Khalilullah on Monday denied that Russia had cancelled planned joint military drills.

Talking to The Express Tribune from Moscow, Khalilullah said the joint Pakistan-Russia military exercises will take place as scheduled. The first-ever military drills between the two former Cold War rivals – named 'Friendship 2016' – will start from September 24 and continue till October 7.

Russia hasn't called off joint military drills: Khalilullah

A senior Pakistani official said that around 200 military personnel from the two sides would take part in the joint military exercises. Pakistan's Ambassador to Moscow Qazi Khalilullah told The Express Tribune that this is the first time that military personnel from the two countries would be taking part in joint military drills, otherwise called 'Friendship-2016'.

The development, Khalilullah said, reflected increased cooperation between the two countries. "This obviously indicates a desire on both sides to broaden defence and military-technical cooperation," he separately told a Russian news agency.
COMMENTS (32)
Comments are moderated and generally will be posted if they are on-topic and not abusive.
For more information, please see our Comments FAQ