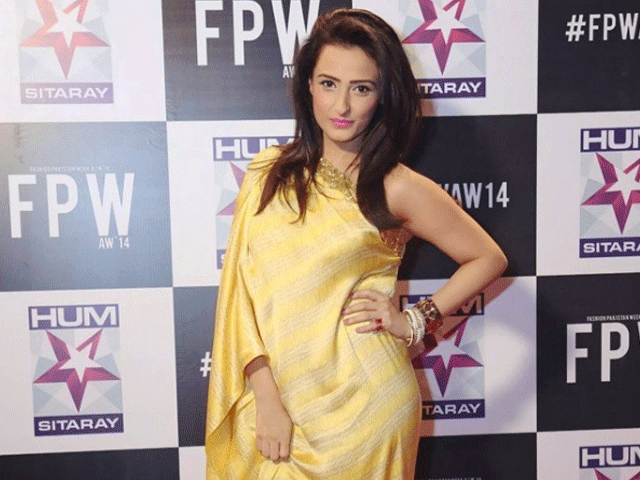 ---
Momal Sheikh, who is making her Bollywood debut with Happy Bhag Jayegi claims there is a huge difference in the quality of work between Bollywood and the Pakistani film industry.

In an interview with Times of India, the Yeh Zindagi Hai actor said, "There is a huge difference in terms of quality. I have never done a Pakistani film before, but from what I can gauge, Bollywood is relatively warmer and kinder. Here, people work like a family unit rather than professionals. After doing a Hindi film, I have matured as an actor."




When asked to comment on the recent influx of actors from Pakistan to India, Momal said that working in Bollywood is seen as a huge achievement for Pakistani actors.

"The trend isn't really a recent one, but I feel happy that finally the right kind of artistes are coming from across the border. Fawad Khan is brilliant and I feel proud when people ask me about his Pakistani shows. People like him have put the spotlight on our country and have set the bar high for all of us. Pakistani actors feel the same pride for Bollywood that Deepika Padukone and Priyanka Chopra feel for Hollywood. Working in Bollywood is looked upon as a big achievement in Pakistan," she said.

Momal reveals dad Javed Sheikh didn't recommend her to Happy Bhaag Jayegi makers




Since so many Pakistani actors are working in India currently, Momal revealed that she would catch up with Mahira Khan and Mawra Hocane nearly every day.

"Last time when I was here, Mahira, Mawra and I would catch up almost every day after work. Initially, I was nervous about the idea of working here. But I have got so much love and attention that the place started feeling like home soon. Even senior actors don't make you feel awkward. They ensure you have the confidence to perform well and help you enhance your scene."

Trailer out: Momal Sheikh's Bollywood film 'Happy Bhaag Jayegi' looks entertaining

Momal also revealed how she landed her role in her upcoming romantic comedy, Happy Bhag Jayegi.

"The makers were looking for a Pakistani actor who could play the character of Zoya with authenticity. My father suggested a few names and the makers did audition them, but kuch baat nahi bani. One day, director Mudassar Aziz found my pictures online. He got curious and inquired with my father. When I was approached for this film, I was doing television back home. Honestly, the script floored me. They wanted me to join the team at the earliest but I was in two minds.

"My husband, Nadir, helped me a lot during that time. He urged me to take up the role because he knew it is rare to get an infallible combination like this — a good script, great director and top filmmakers to back the movie. I'm glad I took it up because it was fun, positive and different. These are the kind of stories which are good for both countries," she added.




Momal also claimed that belonging to a family of actors in Pakistan doesn't excuse her from having to work hard.

"I am a self-made, strong woman. Is it a privilege to be born into a film family? Unfortunately, that's not how our industry works back home. In Bollywood, star kids are a unique lot but in Pakistan, they struggle like regular actors. Whatever my brother (Shehzad Sheikh) and I have accomplished in this field is due to our hard work. We had no help from anyone and it was really difficult for us to carve our own space. If star kids were as privileged in Pakistan as they are in India, all of us would be as famous as Fawad."

Have something to add to this story? Share it in the comments.