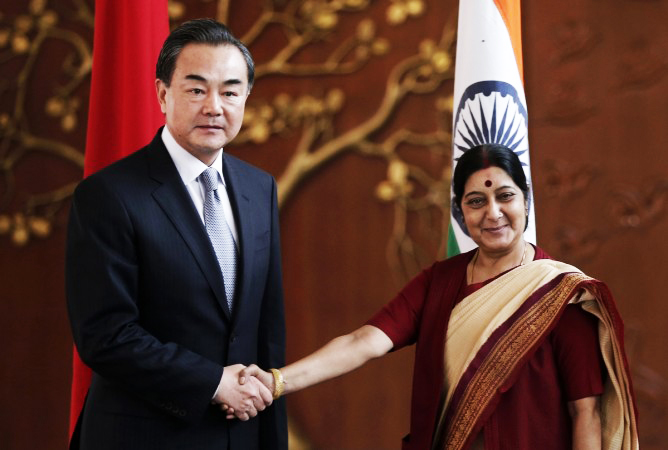 ---
India's External Affairs Minister Sushma Swaraj on Saturday raised New Delhi's concerns on the China-Pakistan Economic Corridor (CPEC) during a three-hour-long meeting with Chinese counterpart Wang Yi.

Kashmir cause cannot be suppressed through violence, Nisar tells India

Swaraj made it clear India would "resolutely oppose" CPEC which runs through Indian-claimed territory in 'Pakistan-occupied Kashmir' (PoK). The statement comes after Indian Prime Minister Narendra Modi on Friday asserted, at an all-party meeting in New Delhi, that "PoK belongs to India."

India also took up China's blocking of its bid for the Nuclear Supplier Group (NSG) membership and Beijing's opposition to UN sanctions against Jaish-e-Muhammed chief Masood Azhar.

Swaraj highlighted India's efforts of meeting the clean energy goals in the context of COP-21 which "qualifies it for NSG membership". India offered to discuss any technical issues or concerns China may have regarding its eligibility for the Group's membership bid.

Olive branch extended: Pakistan invites India to hold dialogue on Kashmir

China had scuttled India's bid for membership of the Nuclear Suppliers Group (NSG) at the plenary meeting of the 48-nation grouping in June on the grounds that it was not a signatory to the Nuclear Non-Proliferation Treaty (NPT), evoking a strong reaction from India. "China is the only country that put a road block to India's NSG membership," India protested.

Swaraj also raised the issue of China blocking India's efforts to get JeM chief Masood Azhar, alleged mastermind of the Mumbai and Pathankot terror attacks, banned by the UN.

"China's technical hold on listing of Masood Azhar in the UNSC 1267 Committee was also taken up. China was urged to revisit its technical hold in line with its own professed zero-tolerance towards terrorism," TOI reported.

PM dedicates Aug 14 to Kashmir cause

The Chinese side, however, remained unmoved on both issues. On NSG, Wang conveyed China's persistence with India's signing of the NPT, while on Masood Azhar, he asked India to "sort it out" with Pakistan.

Interestingly, the Chinese foreign minister had not visited to discuss the issues raised by India. He was reportedly more focused on getting India's cooperation at the forthcoming multilateral summits like G-20, BRICS, East Asia Summit etc in the coming months.

This article originally appeared on Times of India.