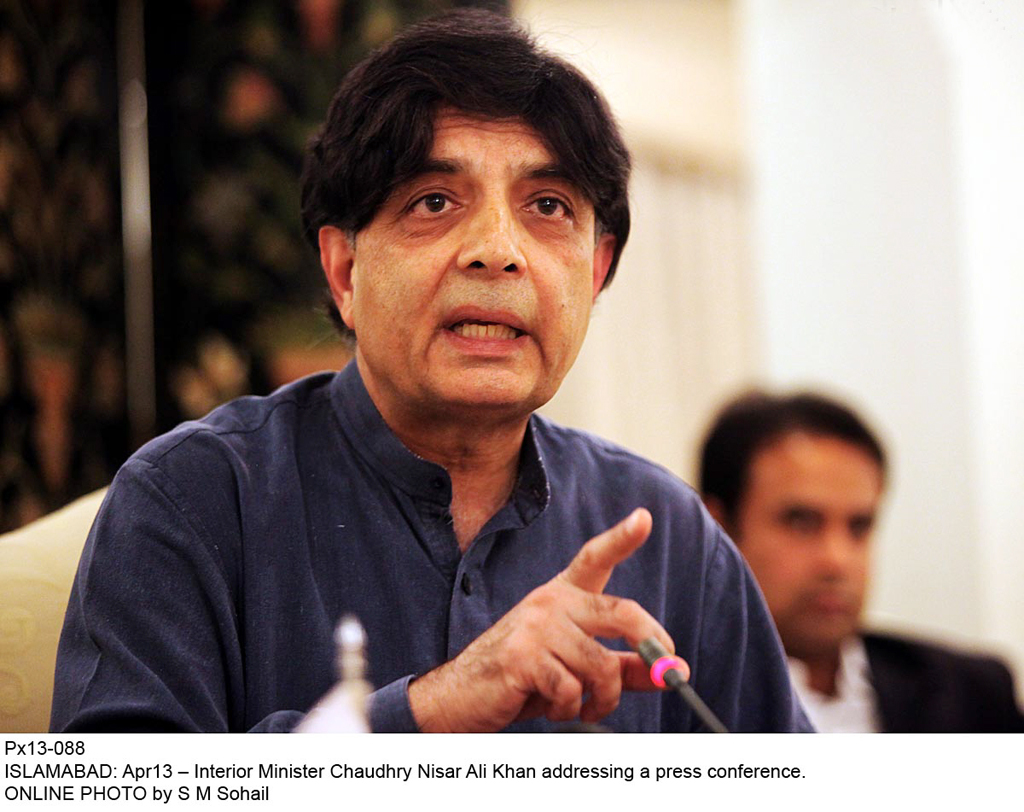 ---
In response to Indian allegations of Pakistan's involvement in fuelling unrest in occupied Kashmir, Interior Minister Chaudhry Nisar Ali Khan said on Friday the struggle of Kashmiris could not be suppressed through violent tactics.

"I want to tell India that the Kashmiri nation cannot be suppressed by using such techniques... such a solution is not acceptable to any Pakistani," Nisar told reporters in Islamabad on Friday.

India has mounted unconventional war on Pakistan, says Lt-Gen Aamer

The security czar said he did not ignore Indian Home Minister Rajnath Singh at the recently held Saarc summit in the federal capital.

"Rajnath Singh walked out after my speech at the forum and later responded about it in India."

Nisar suggested the Indian home minister should talk about Prime Minister Narendra Modi who takes credit for splitting Pakistan into two.

"How can someone stay silent when the other person invited as a guest insults them," he questioned referring to Singh's statements.

The minister said protest was launched against Indian atrocities in the disputed territory and not against the Indian home minister.

Blacklisted US national to be deported

Earlier, Nisar revealed the blacklisted American national, who is currently being held by security forces, will be deported in a couple of days.

"Matthew Barrett was deported in 2011 on Supreme Court's orders after being blacklisted but he was reissued visa within 24 hours after he reapplied for it five years later," he said.

Six militants, including two commanders, held in Rawalpindi combing operations

The interior minister, however, denied reports that the US national was involved in spying activities in the country.

"He was found in a sensitive area, involved in scuffle with security agencies."

Nisar confessed that gross irregularities were found in the visa application of the blacklisted US national and strict legal action was being taken against the visa awarding officer.
COMMENTS (3)
Comments are moderated and generally will be posted if they are on-topic and not abusive.
For more information, please see our Comments FAQ