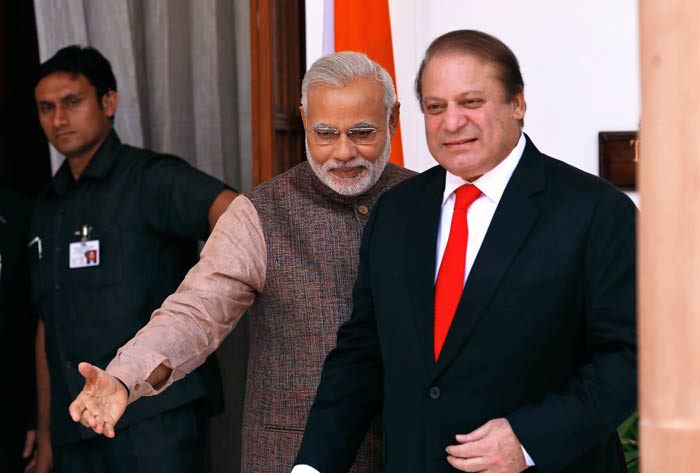 ---
ISLAMABAD: Pakistan extended an olive branch to India on Friday when it invited its arch rival for talks on the longstanding Kashmir dispute in the wake of escalating unrest in the valley.

This offer was made by Adviser to Prime Minister on Foreign Affairs Sartaj Aziz in view of the recommendation of a recently-held envoys' conference.

"The foreign secretary will soon write a letter to his Indian counterpart seeking dialogue on Kashmir," said Aziz while speaking at a news conference.

Aziz pointed out that one of the diplomatic initiatives out of many discussed at the envoys' conference was to offer India dialogue on Kashmir – especially if it was not ready to resume the structured talks.

The comprehensive bilateral dialogue is currently suspended as India is reluctant to resume the peace process following the attack on its airbase near the border with Pakistan in January this year.

Relations between the two countries have further deteriorated in the aftermath of the recent Kashmir unrest which started last month.

Recently, Indian Home Minister Rajnath Singh visited Islamabad for the regional conference but he avoided any bilateral engagement. Given the current state of relationship between the two countries, India is unlikely to respond positively to Pakistan's proposal.

Aziz said India's policy of not engaging in a comprehensive dialogue with Pakistan was not conducive for peace in the South Asia. Pakistan also proposed to India a bilateral pact that seeks to impose ban on further testing of nuclear weapons by the two sides.

"We voted for the treaty when it was adopted by the UN General Assembly in 1996. We have declared a unilateral moratorium on further testing," Aziz added.

He said Pakistan was prepared to consider translating its unilateral moratorium into a bilateral arrangement on non-testing with India. Even as Pakistan proposed these initiatives, Sartaj alleged that Indian and Afghan intelligence agencies were collaborating with each other to create unrest in Pakistan.

"There are indications of the involvement of a splinter group of the proscribed Tehreek-e-Taliban Pakistan (TTP) in Quetta attack," he said. The recent suicide attack in the premises of a hospital in Balochistan's provincial capital last week claimed more than 70 lives.

"The Afghan intelligence agency NDS [National Directorate of Security] is known to be indirectly supporting such groups and there is also collaboration between the NDS and the Indian intelligence agency RAW [Research and Analysis Wing]," the adviser said.

He emphasised the need for practical implementation of the understanding between Pakistan and Afghanistan for closer coordination between Pakistan's ISI and NDS.

On Pakistan's aspiration to become member of the nuclear trading nations, Aziz said Islamabad would formally inviting the Nuclear Suppliers Group (NSG) Troika to visit the country for a detailed briefing on 'our credentials'.

Published in The Express Tribune, August 13th, 2016.
COMMENTS
Comments are moderated and generally will be posted if they are on-topic and not abusive.
For more information, please see our Comments FAQ