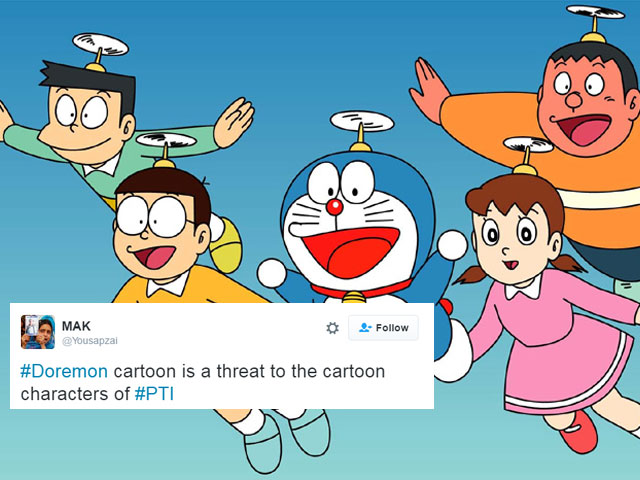 ---
After Pakistan Tehreek-e-Insaf submitted a first of its kind resolution in the Punjab Assembly calling for a ban on famous Japanese anime series Doraemon, Twitteratis have found it's newest target.

The Japanese manga series which is dubbed in Hindi for viewers in Pakistan and India, and revolves around a robotic cat named Doraemon, has been deemed inappropriate by PTI legislator, Malik Taimoor Masood.

PTI submits resolution against Japanese cartoon in Punjab Assembly

The announcement has created a full on war on Twitter under the hashtag #PTIvsDoraemon, and Pakistanis are trying to figure out what PTI has against anime.


#PTIvsDoraemon is doraemon using any gadget against Imran khan ? 😂😂😂

— Memoona (@Moonraolive) August 3, 2016
Many took a dig at Imran Khan
PTI wants Doraemon banned? I thought Imran Ismail is one of their own...

— Qasim Zaidi (@QasimZaidi_) August 3, 2016
Seems like Immi Bhai has got angry on Doraemon for not giving him the gadget that could turn him into Prime Minister of the country.

— Sobwaster (@sobaanwaseem) August 3, 2016
PTI has problem with every thing that is popular than #ImranKhan. Now its turn of #Doraemon.#PTIvsDoraemon

— محمد ساجد (@baltisjt) August 3, 2016

Others found solace in sarcasm
https://twitter.com/PoorGooner/status/760779911376334848

Ab 'Go Nawaz Go' Kay Baad #PTI presenting 'Go #Doraemon Go'...
The most burning political issue of today's Pakistan :P

— Moona Naeem Khan (@moonatvone) August 3, 2016

Then there were more digs at Imran Khan...

https://twitter.com/bilalaslem/status/760776815858294784

I think it's due to professional jealousy! PTI walay khud ek cartoon hain! #PTIvsDoraemon

— Azam bhutto (@azambhutto) August 3, 2016

https://twitter.com/NoorKKakar/status/760779062184992768

PTI and Doraemon have a go at each other. #PTIvsDoraemon pic.twitter.com/aDBv1k9zwf

— Saadi-fy (@theironicirony) August 3, 2016
We are all Doraemon.#PTIvsDoraemon

— Hamna Zubair (@hamnazubair) August 3, 2016
Some (like us) were completely clueless
Why is #PTI so anti-kids? What have they ever done to them? Why is #Doraemon even an issue?!

— Nuzhat S. Siddiqi (@guldaar) August 3, 2016
Because we are coming to entertain you people. Ban all other shows.#DharnaSeason #PTIvsDoraemon

— Shaheer Khuhro (@shaheerkhuhro) August 3, 2016
But here's the simplest explanation that was offered:
#Doremon cartoon is a threat to the cartoon characters of #PTI

— MAK (@Yousapzai) August 3, 2016
Have something to add to this story? Share it in the comments.