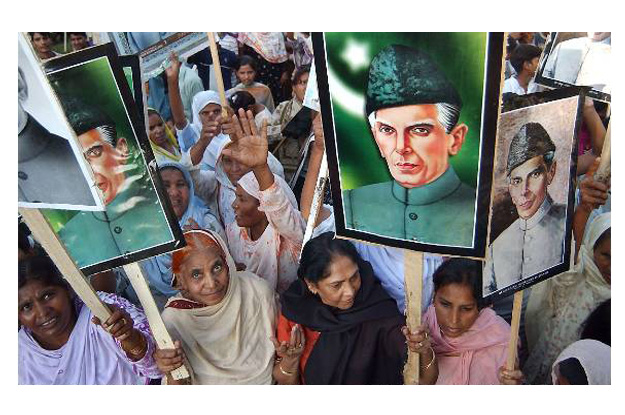 ---
LAHORE: Speakers at the launch of two books and a video documentary at Government College University Lahore (GCU) on the role of minorities stressed that the contributions of non-Muslims Pakistanis should be a part of the textbooks.

This would promote tolerance and religious harmony in the society, they said.

"When I was in the sixth standard, I remember proudly studying about my father, Group Captain Cecil Chaudhry, the celebrated Christian fighter pilot, in my textbook. Later, religion took the driving seat in politics, and chapters on Pakistani non-Muslims were removed from the textbooks," said Cecil Shane Chaudhry, executive director of the National Commission for Justice and Peace.

"There are hundreds of great and eminent Pakistani non-Muslims, the unsung heroes, about whom our youth know nothing," Shane said at launch of books, titled Leading Lights: the North Stars of Pakistan's Marginalised Religious Communities by Bushra Sultana, and Beyond the Other: Roots of Religious Syncretism in Pakistan by Haroon Khalid.

Vice Chancellor Hassan Amir Shah chaired the launch ceremony of the books published by the Faiz Foundation along with their Urdu translations. A video documentary, Profiles of Outstanding Pakistanis from Marginalised Communities, was also launched.

Chaudhry said the Quaid-i-Azam had unequivocally declared a policy of equality, freedom and security for all communities in Pakistan, irrespective of their religion, caste, colour and creed. "The policy needs to be adhered to for the prosperity and peace in Pakistan," he said.

About the role of minority communities in various fields in Pakistan, Dr Shah said, "We should not only learn to accept the minorities, but also celebrate them." He praised the provincial government's initiative to establish a counter narrative against extremist ideas in the society. He also talked about the life and contributions of poet Faiz Ahmed Faiz. "It is a matter of great pride for us that he is an alumnus of Government College, Lahore." Other speakers appreciated the effort of Faiz Foundation and the authors for apprising the youth of great contributions of non-Muslim Pakistanis. Saira Qureshi from Faiz Foundation highlighted the foundation's efforts for promotion of peace. GCU Faculty of Languages, Islamic and Oriental Learning Dean Iqbal Shahid was also present.

Published in The Express Tribune, May 20th, 2016.