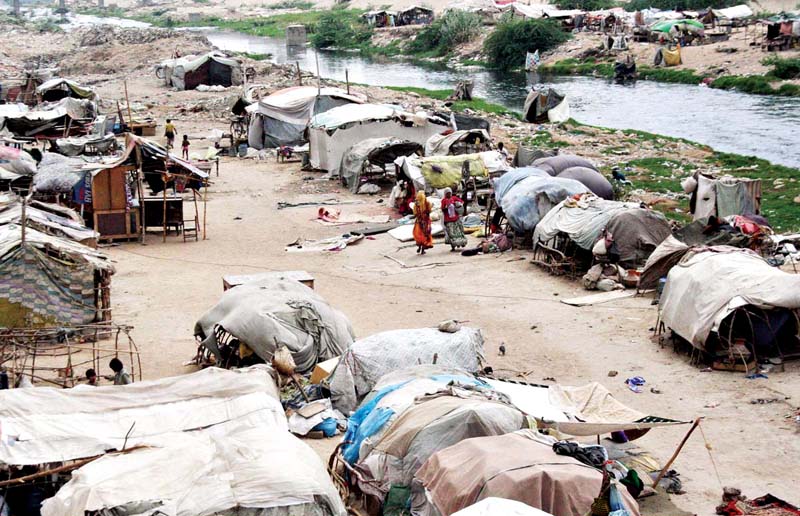 ---
KARACHI: A day has passed since three-year-old Jawad Khan fell into Lyari River while playing along the river but no one has been able to find him yet.

Monday evening was the last time Jawad left his house to play by the river. With no public parks for the katchi abadi residents living along Lyari River, it was normal for Jawad to play there. The minor boy, who was the youngest among three siblings, lived in Madinah Colony located along the river.

"He left home to play with his friends but he did not return," said the victim's father, Muhammad Khan. The incident took place on Monday evening and the family got to know about the tragedy after some residents saw Jawad drowning. The victim's family and neighbours said they tried their best to rescue him but failed.

Lyari Expressway: Where there's no will, hence no way

The family also informed the police to help rescue the boy. "What can the police do in such cases," said Federal B Industrial Area SHO Naeem Khan. "I approached the fire brigade department, water and sewerage board officials and divers from Edhi," the SHO said. He claimed that all of them tried to rescue the boy but could not find Jawad because of the garbage, bushes and chemical waste in the river. The rescue operation was halted at 1:30am on Tuesday and restarted after around four hours. The river's depth is around four feet and we can even walk in it, said a diver from Edhi, Khan Muhammad. "But it is difficult to search due to the heaps of garbage in the river," he said. He added that there are two things that could have happened: the boy either got stuck somewhere in the garbage or went downstream in the flowing water.

Lyari's young boys and girls see a way out

Another fall

Meanwhile, when the victim's family, residents and rescuers were busy in the rescue operation, a five-year-old girl also fell into the river. The rescuers, however, rescued her from drowning. "We are poor people. We cannot stop our children every time from going out to play," said the girl's father, Irfan Khan. He added that it is the government's responsibility to clean rivers and nullahs and build barriers to avoid such incidents.

The residents also staged a protest against the incident and demanded the authorities to take action. On the other hand, Karachi Metropolitan Corporation (KMC) machine pool department deputy director claimed the nullah is heavily encroached and their machinery cannot reach the site as the drain is 12 to 14 feet below land. He said there are very low chances for the boy's recovery.

Recently, a minor boy's body was found from a manhole in Mawach Goth, three days after he went missing, while in another incident two KMC sweepers drowned in a nullah in Korangi.

Published in The Express Tribune, May 18th, 2016.