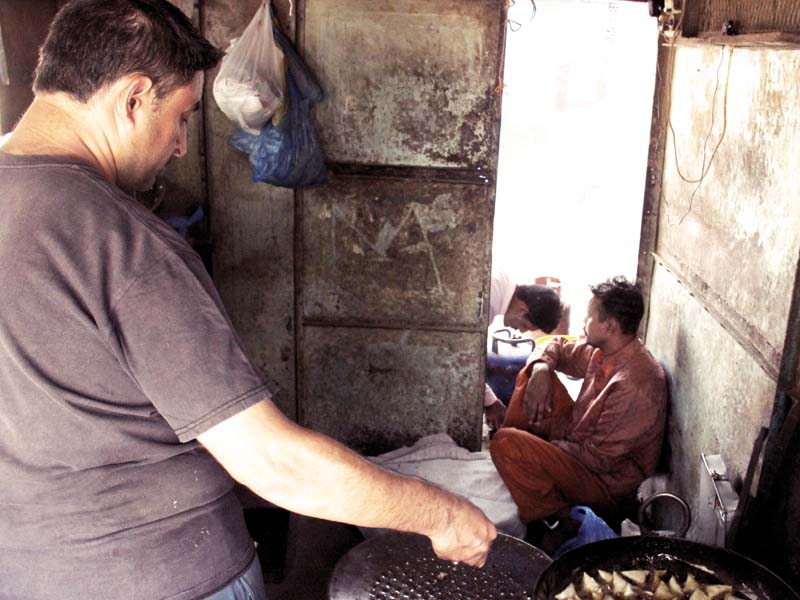 ---
KARACHI: If you thought the University of Karachi's (KU) famous Prem Gali [Lovers' Lane] was meant for couples, you could not be more wrong. The street caters to love of a different kind - the love for food. Over time, many more canteens have cropped up and each of them offers its own specialty.


Pharmacy Canteen

Hop on board as The Express Tribune takes you around the canteens spread across the 1,200-acres campus and offering gastronomical delights to not only hungry students but food-loving alumni and visitors.

Prem Gali

Stroll down Prem Gali and you will know what spoilt for choice really means. The entire street offers tasteful delights - from chana chaat to gol guppay, the famous mini samosas and chai.

KU alumni, scientist Dr Attaur Rahman, cannot resist the chana chaat so many years after he attended the varsity as a student. He still occasionally indulges in a plate of the Rs40 chaat if someone happens to bring along a plate to his current office. "When I studied at KU over half a century ago in the 1960s, most of these canteens didn't exist," he said. "There used to be a samosay wala behind the library that we frequented."

5 meals in Karachi that will hurt your wallet


Qasim's one-bite samosa  at Prem Gali

It is nothing short of a sin if you go to Prem Gali and not grab a bagful of KU's famous one-bite samosas from Qasim's shop. Fried fresh before your eyes, these spicy potato samosas sold for Rs3 each have been around for the last 43 years, said Saleem Sheikh, the current owner of the shop that was opened by his grandfather.


Kachori from Pharmacy Canteen

"Aaloo samosas were a big hit back then and they are still loved by all," said Sadia Mahmood, who graduated from KU in 1996 and is now an assistant professor at the university's mass communications department. Part of the appeal is how cheap they are. "Who doesn't like cheap food? I don't even remember how much they used to cost but it was less than Rs2 back then."

Adeela Akmal, a recent graduate of KU, pointed out her family asks her to bring these samosas for tea parties. "I was the only child [in my family] who was studying at KU at the time," she said. "It was my responsibility to bring these famous samosas into the family."


Prem Gali Canteen

After having your fill of these samosas, it is a good idea to head over to Shahji Quetta's for tea. For Rs20, the servers will bring you piping hot tea either in a Styrofoam cup to go or a glass cup to sit around the corner.

Pharmacy Canteen

Make your way out of Prem Gali and stop at Pharmacy Canteen to try their kachori and tarkari, served with a small portion of achaar. For Rs30, you can get four kachoris. "These kachoris are amazing and so cheap that we get a full meal out of it," said one of the two girls sitting at the canteen. They reached for their plates as soon as the kachoris were dropped. "We came earlier and they were sold out so we had to wait half an hour to come back again and get them."

Come one, come all to Karachi Farmers Market


Chaat from Prem Gali Canteen

Rangers Canteen

Perhaps the best place to eat and relax would be the Rangers Canteen (Visual Studies Canteen), which is surrounded by trees offering a lot of shade. The canteen is famous for its crispy fries served with dipping sauce. Depending on your appetite and wallet size, each plate can cost anywhere between Rs20 and Rs100.


Qasim's one-bite samosa  at Prem Gali

"If we had time on our hands, we would always head over to the Rangers Canteen and have their fries," reminisced Yamna Haroon, a recent KU graduate. "Pharmacy fries were good too but that was more of a takeaway thing. At the Rangers Canteen, you could chill for hours under the shade of a tree and have fun," she said.

You have to try these 9 egg recipes for dinner


Tahir Juice near Bus Terminal

Tahir Juice

It is probably a good idea to down all the fried food with some freshly squeezed juice and Tahir Juice near the bus terminal offers the best variety. Sugarcane juice for Rs20 a glass tops their bestseller list but the strawberry juice is also quite popular.


Rangers Canteen
Tahir Juice near Bus Terminal

The fresh juice brings an end to our culinary tour but the food-loving KU students were not done offering more options. Perhaps on another day, you can take a trip for the Arabic rolls at the Rangers Canteen or grab breakfast at Soofi's or Majeeday ka Dhaba.




Published in The Express Tribune, May 12th, 2016.