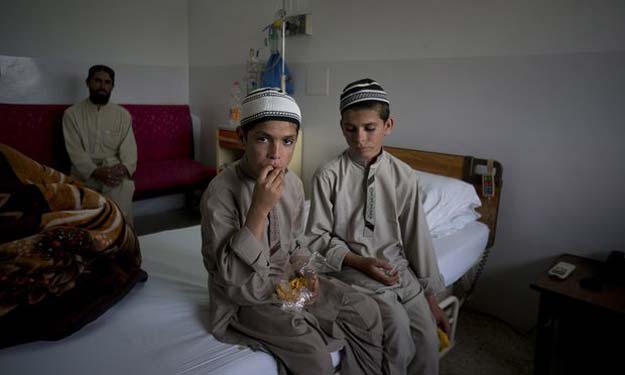 ---
Quetta's 'solar kids' who had baffled doctors due to their mysterious illness are now able to move around at night, Express News reported.

The two brothers, who suffered from a mysterious condition due to which they lapsed into a vegetative state at night, were shown to be walking for the first time, according to an Express News footage.

Although tests are still ongoing to fully treat the brothers, there is a marked improvement in their condition since they were shifted to Pakistan Institute of Medical Sciences (PIMS) in Islamabad.

Illness that diverted American Airlines flight remains a mystery

The strange ailment that inflicted the boys, Shoaib Ahmed, 13, and his brother Abdul Rasheed, 9, had perplexed doctors. They are completely normal during the day but lapsed into a vegetative state at night – unable to move or talk.

Javed Akram, a professor of medicine at the Pakistan Institute of Medical Sciences (PIMS), said on Thursday that he had no idea what was causing the symptoms, Guardian reported. "We took this case as a challenge. Our doctors are doing medical tests to determine why these kids remain active in the day but cannot open their eyes, why they cannot talk or eat when the sun goes down," he said, as he visited the pair at his hospital.

The brothers are being treated on government expense as they come from an improvished family. Tests are currently being run and samples of their blood have also been sent to overseas specialists for further examination. Researchers are also collecting soil and air samples from the family's village.

Dead could be brought 'back to life' in groundbreaking project

The boys' father, Mohammad Hashim, explained his sons' mysterious illness, saying, "I think my sons get energy from sun."

However, doctors have ruled out the idea of sunlight playing a role, noting that the boys can move during the day even when kept in a dark room or during a storm.

Hashim and his wife are first cousins and two of their six children died at an early age. Another one of their children, a one year old boy, also suffers from the same condition.

The boys are cheerful and energetic during the daytime. "I will become a teacher," Shoaib said, while his younger brother said he wanted to be an Islamic scholar.