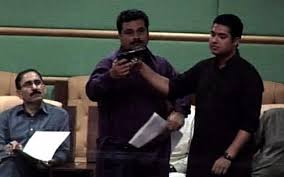 ---
KARACHI: A private television news anchor and his colleague were arrested Friday morning after they smuggled a gun into the Sindh Assembly building while a session was in progress.

Anchor Iqrarul Hassan, who is known for conducting 'sting' operations, managed to sneak into the members' section of the assembly while a session was in progress. When assembly staff noticed the unusual attendee they confronted him but he started creating a fuss.

Watching the commotion, Speaker Agha Siraj Durrani demanded an explanation.

"Please go and sit in the gallery," Durrani told him.

[poll id="1470"]

But Iqrar insisted on being allowed to approach the speaker, but security escorted him to the gallery.

At this point opposition leader Khawaja Izharul Hasan of the Muttahida Qaumi Movement rushed towards the anchor and exchanged some words.

"Iqrar is well known anchor and he has given me shocking news," the MQM lawmaker told the house, adding that "there is a man inside this house who possesses a weapon."

As officials searched, the MQM lawmaker criticised the government for the apparent security lapse. "We have not yet found anyone carrying a gun, so please don't blame the security," Durrani retorted.

As the exchange was playing out, Iqrar approached a man standing near him and pulled a gun from his pocket. Assembly security promptly pounced on Iqrar and the object and handed it over to Durrani. At this Sindh Home Minister Sohail Anwar Siyal ordered security to arrest Iqrar and his accomplice and ordered an inquiry. The two had not been booked till the filing of this report.

Published in The Express Tribune, April 30th, 2016.
COMMENTS
Comments are moderated and generally will be posted if they are on-topic and not abusive.
For more information, please see our Comments FAQ