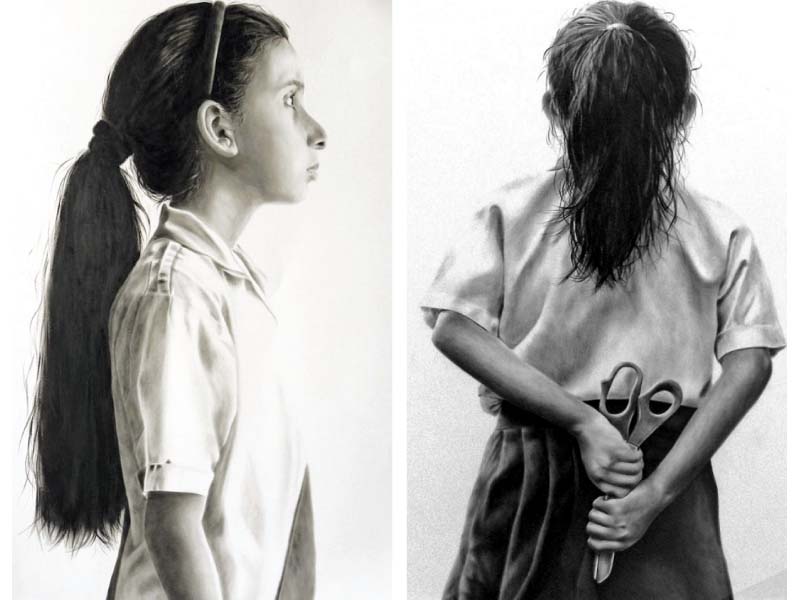 ---
KARACHI: A year-and-a-half has passed since the 2014 Army Public School (APS) attack in Peshawar took place. A lot has happened since then —from stepping up security at education institutions and training students and teachers in mock exercises to the issue having been brushed under the carpet.

It is in this 'silent' state of affairs that artist Madiha Hyder has revisited what has passed and reconnected it with the present. Hyder is a graduate of fine arts from the Indus Valley School of Arts and Architecture and has exhibited her work at different places.

Three Pakistani artists pay touching tribute to APS victims

Her current exhibition, titled 'Beyond Innocence', at Canvas Gallery uses the APS attack as a starting point and showcases what follows.

"In December 2014, when the attack happened, I couldn't make myself look at the images," Hyder told The Express Tribune. "In January 2016, I was working on something else but then I switched towards this project. I opened up and looked at everything — all the articles and images. It was all very disturbing."




Hyder has worked with oils on canvas as well as oils on paper to showcase portraits of children and the places that are associated with them. From barbed wires and walls riddled with bullets to a girl hiding a pair of scissors behind her back and toy guns, there is a lot of meaningful reference to violence. The notable aspects are the expressions of loss and fear on the kids' faces and the hiding behind walls and inside boxes. "It's the little elements like scissors and barbed wires that I picked up from my research while reading up different stories," said Hyder, adding that she wanted to be subtle yet wanted to get her message across.

Senators call for making APS inquiry report public

The artist has also used the drybrush technique instead of charcoal drawings to best convey her message. Her works depict how she feels about the forgotten status of the plight of the students who live in a constant state of fear and uncertainty.

"I was affected enough but I couldn't visualise it back then," she explained. "So, I kept myself away from it deliberately and finally realised [now] what I wanted to do with this concept."

The exhibition is on display till May 5, 2016.

Published in The Express Tribune, April 30th, 2016.
COMMENTS (1)
Comments are moderated and generally will be posted if they are on-topic and not abusive.
For more information, please see our Comments FAQ