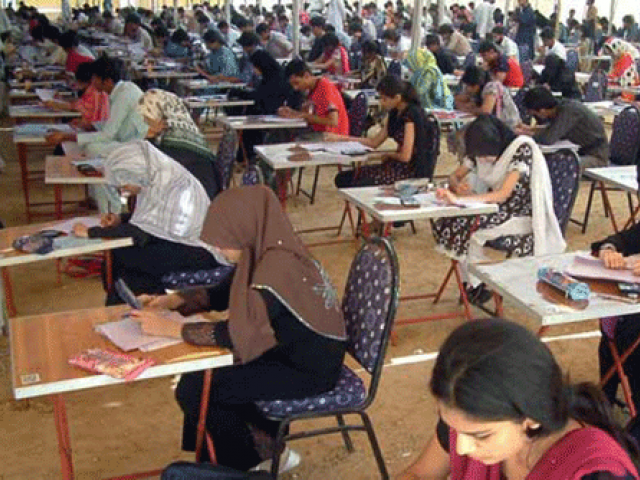 ---
ISLAMABAD: Exposing the plunging standard of domestic education, just 3.02 percent of candidates who appeared in the competitive civil services examinations passed, while 60 percent of successful applicants belonged to Punjab.

According to the results announced by the Federal Public Service Commission (FPSC), only 379 candidates out of a total of 12,176 aspirants passed the written CSS examinations while only 368 cleared the interviews.

Subsequently, only 238 candidates were recommended by the selection board for final appointments.




Of the 368 candidates, 220 were male while 148 were females.

Of the 238 candidates, 36 were appointed in Pakistan Administrative Services, 27 in Police Service, 24 in Foreign Service, 24 each in Office Management Group and Pakistan Audit and Accounts Group while 18 in Pakistan Customs Service, 38 in Inland Revenue Service, 13 in Commerce and Trade Group, 18 in Information Group, seven in Military and Cantonment and nine in Railway Commercial Group.

Of the 368 candidates who passed interviews, 237 were from Punjab which amounted to nearly 60 percent of the total. There were 62 successful candidates from Sindh; 47 from Khyber Pakhtunkhwa; seven from Gilgit-Baltistan, six from Balochistan and eight from Azad Kashmir.

This year's pass percentage is slightly better than that of 2014 when it was merely 2.86 percent, but the trend is persisting between two and three percent for the past few years and vacant posts are increasing with every passing year.

According to statistics, around 24,640 candidates applied to appear for the competitive examinations of 2014 against 315 vacancies. Of them, 233 cleared all tests while 82 posts remained vacant. The number of vacant posts was 71 seats in 2013 against 30 seats in 2012 and 45 in 2011.

The FPSC has been making several suggestions to improve the process of examination system, but the government has yet to respond in this regard since 2013.

In 2012, the FPSC received 134,252 applications for 650 advertised posts. The commission interviewed 3,231 candidates while it recommended 929 candidates for appointments in 2012.

In 2011, the recruiting body advertised 2,477 posts and received 140,586 applications. As many as 2,407 candidates qualified for interviews while the commission recommended 890 candidates for appointments.

In 2009, the commission recruited 920 candidates against 3,306 advertised posts, whereas it conducted interviews of 3,357 applicants.

Published in The Express Tribune, April 28th,  2016.
COMMENTS (1)
Comments are moderated and generally will be posted if they are on-topic and not abusive.
For more information, please see our Comments FAQ