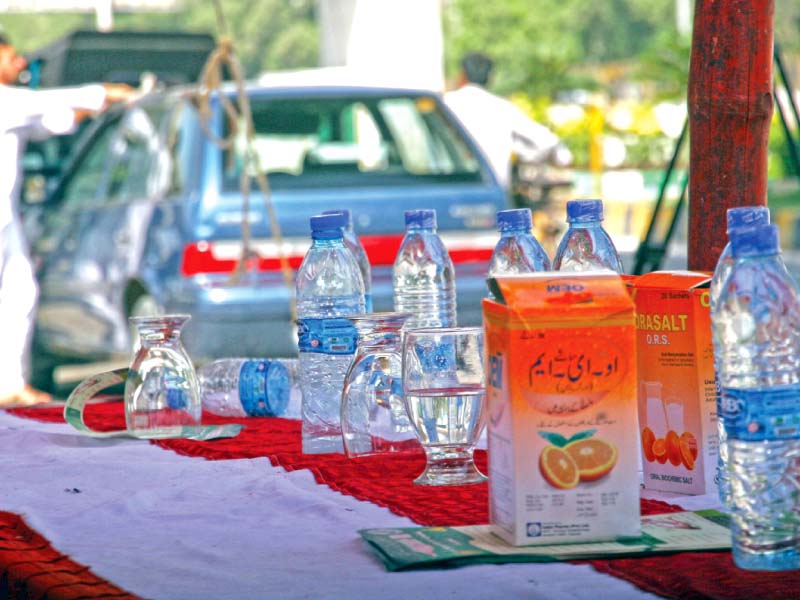 ---
KARACHI:



Saleem Naqvi became a victim of the very condition he had come to help others against. The bulky 47-year-old assistant engineer of the district municipal corporation (DMC) East was rushed inside the heat stroke camp at Nipa Chowrangi where he was working after he fainted on Friday.




Since early morning, Naqvi was providing cool water and wet towels to commuters making their way to Nipa Chowrangi. At around 2pm, the scorching heat finally got to him.

More than 100 feared dead in India heat wave

"We brought him inside and placed wet towels under his head and arms after which he regained consciousness," explained DMC East's deputy director parks, Rashid Fayaz, who was monitoring the camp. According to Fayaz, around 12 patients with minor or severe conditions of heat stroke were brought to the camp. A young heatstroke victim in serious condition was among them, confirmed Dr Ahmed Jamal, present inside the camp. He said the man was dehydrated.

"We immediately poured cold water on his head and performed cold sponging," he said, adding that it took around an hour for him to recover after which they hired a rickshaw for him and sent him home.

According to DMC East administrator Rehmatullah Shaikh, apart from a doctor, they have Oral Rehydration Salts (ORS), glucose sachets, drips, wet towels and several cold bottles at all the camp so instant first aid can be provided to heatstroke victims.

Meanwhile, a representative of DC East office, Mirza Ashfaq Baig, who was deployed at a similar camp at Jauhar Morr, said people kept coming to their camp throughout the day in search of water. "We had 10 water cans of 17 litres each that have all been used up," he said.

Fayaz said they continued providing hundreds of commuters and drivers of buses and Qingqis with cold water throughout the day.

Heatwave likely to hit by end May or early June: Met dept

Met dept's forecast

The ongoing 'mild' heatwave is likely to intensify on Sunday. According to a Pakistan Meteorological Department spokesperson, the maximum temperature recorded on Friday was 38.2°C. He claimed the temperature can rise to 40°C on Sunday.

KMC preparations

The Karachi Metropolitan Corporation (KMC) along with the district municipal corporations has established 40 emergency relief centres throughout the city in light of the ongoing heatwave.

According to the KMC's press statement, they have arranged 178 beds while DMCs have made arrangements of 50 beds.

Hospitals on high alert

The health department has put all public hospitals in the city on high alert. The city's health services director, Dr Shakoor Abbasi, said the heads of all public hospitals have been directed to ensure availability of doctors, medical staff and medicines at their hospitals.

Grave news: Two die allegedly of heatstroke

He said an emergency control room has been established at his office in the Civic Centre to cope with any emergency.

Leaves of hospital staff have already been cancelled in all public hospitals, while ambulance services are also on alert.

Published in The Express Tribune, April 23rd, 2016.
COMMENTS (1)
Comments are moderated and generally will be posted if they are on-topic and not abusive.
For more information, please see our Comments FAQ