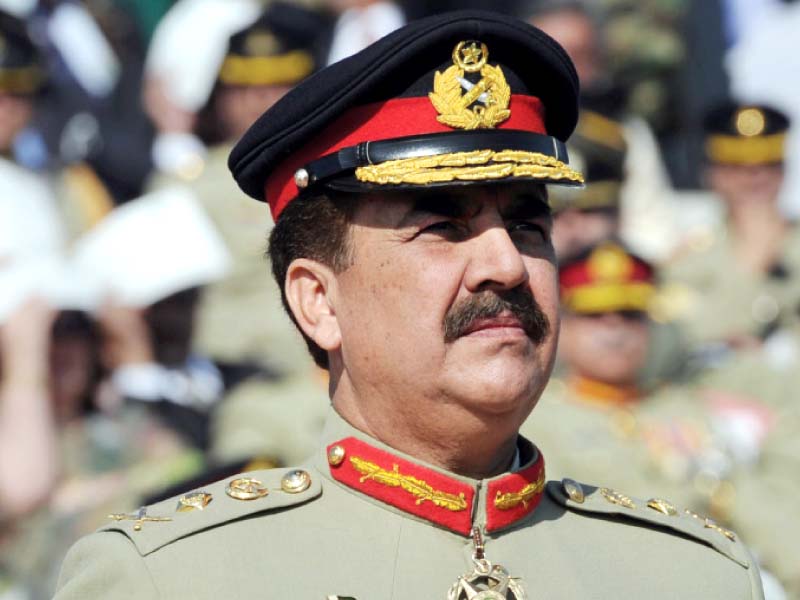 ---
ISLAMABAD: Army chief General Raheel Sharif on Thursday dismissed 11 military officers over corruption, in a rare display of accountability by the institution.

One lieutenant general, one major general, five brigadiers, three colonels and one major are among those dismissed by the Army chief.

There is no official confirmation of the dismissal as yet.

"I can confirm the sacking of at least six senior officers which include a lieutenant general," said a senior officer based in military headquarters, crediting popular army chief Raheel Sharif with launching the investigation leading to the dismissals.

Army chief calls for 'across-the-board accountability' in veiled reference to Panama leaks

Another source confirmed the sackings.

It was unclear when the officers were fired, the precise nature of the charges, or whether they would face criminal proceedings in a civilian court.

According to media reports, Lt Gen Obaidullah Khan Khattak is among the military officers dismissed. Lt Gen Obaid was promoted to the rank in 2013 when he was serving as inspector general of the Frontier Corps in Balochistan.

The other officers have been named as Maj Gen Ejaz Shahid, Brigadier Rasheed, Brigadier Asad Shahzada, Brigadier Saifullah, Brigadier Amir, Lt Col Haider and Maj Najeeb.

The development comes days after the army chief said "across the board accountability is necessary for the solidarity, integrity and prosperity of Pakistan", adding that the war against terror cannot be won unless "the menace of corruption is uprooted."

"Across-the-board accountability is necessary for the solidarity, integrity and prosperity of Pakistan. Pakistan's armed forces will fully support every meaningful effort in that direction, which would ensure a better future for our next generations," General Raheel said during his visit to the Signal Regimental Centre in Kohat on Tuesday.

Fighting the curse of corruption

The army chief's statement had followed Panama Papers revelations shrouding the prime minister's family among many other prominent political figures holding off-shore wealth.

Around 220 Pakistanis, including three children of Prime Minister Nawaz Sharif, have been named in the massive leak of documents from a Panama-based law firm.

Prime Minister Nawaz has rejected any allegations of money laundering, claiming that his children have legitimate businesses abroad, and has called for the establishment of an inquiry commission.

Rs4.3b NLC scam: Military probe finds two ex-generals guilty

The move was hailed by commentators because wrongdoings committed by the army, which has ruled Pakistan for around half of its existence and continues to exert control over foreign policy, rarely come to light.

"It's an extraordinary development," retired general Talat Masood told AFP.

"The military has taken the lead in punishing corrupt officials and has set an excellent example. It will have a very serious impact and very positive impact in the future. Those who are corrupt should be worried now."

In August last year, a long-delayed but much awaited military probe into the Rs4.3 billion National Logistics Cell (NLC) scam had found two former generals guilty of illegal investments in the stock exchange.

Following the inquiry, military's media wing, the Inter-Services Public Relations (ISPR), said that in light of findings of the inquiry, the two accused retired generals were punished under the Pakistan Army Act.
COMMENTS (62)
Comments are moderated and generally will be posted if they are on-topic and not abusive.
For more information, please see our Comments FAQ