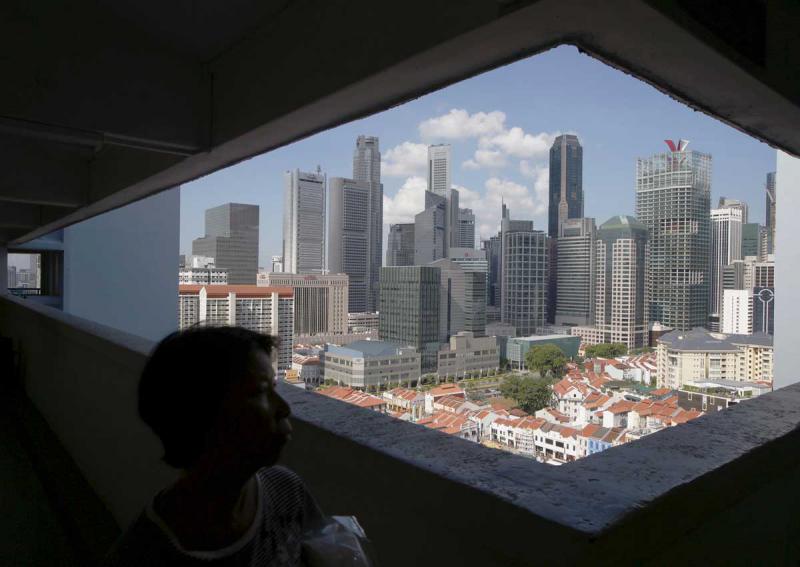 ---
SINGAPORE: Singapore exports tumbled at their fastest pace in three years in March on falling shipments to Europe and China, official data showed Monday, supporting forecasts for slower economic growth and further monetary easing this year.

Non-oil domestic exports shrank 15.6 percent year-on-year for the month, trade promotion body International Enterprise (IE) Singapore said, worse than the 12.3 percent fall analysts had projected.

It was also the trade-reliant city-state's worst export performance since a 30.6 percent year-on-year decline in February 2013, Singapore's United Overseas Bank (UOB) said.

Unsatisfactory: Economic stabilisation without growth

"Singapore exports remain entrenched in a rut, raising the odds of downside risks to the local economy's growth," ANZ Research said in a note.

"If the current trend persists, it could increase the possibility of a central bank easing at their next policy review in October."

The Monetary Authority of Singapore last Thursday announced a surprise easing of monetary policy to kickstart the stuttering economy by boosting exports as analysts warned of a possible recession.

In a statement, IE Singapore said electronics exports, such as semiconductors, shrank 9.1 percent in March, compared to a 0.7 percent expansion in February.

Non-electronics shipments, including pharmaceuticals and petrochemicals, declined 18 percent, reversing the previous month's 2.6 percent growth.

There was a notable dip in demand from the European Union and China, both major markets for Singapore.

Exports to the EU plunged 39.1 percent from 16.1 percent growth in February while shipments to China dropped 14 percent, accelerating from a 1.2 percent decline.

Businesses push for economic miracle

Exports to the US fell at a slower 6.2 percent from 4.2 percent growth in February.

UOB said exports "will likely remain weak" in the first half but should improve in the second half to end the year on a slightly positive note.

"However, there could be downside risks to our forecast should the uncertainties in China's growth and oil prices perpetuate," it said.

The government projects economic growth at 1.0-3.0 percent this year, but private sector economists expect it to come in at the lower end of the range. The economy grew 2.0 percent last year.

DBS Bank senior economist Irvin Seah said last week he expects growth this year at 1.5 percent, which implies at least one quarter of contraction.

But the risk of a technical recession --  two successive quarters of shrinkage -- should not be discounted, he added.