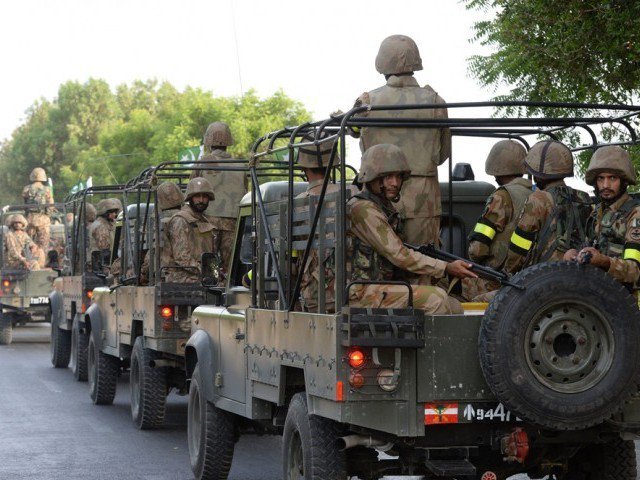 ---
A day after the Pakistan Army launched a full-fledged ground and aerial offensive in Rajanpur against the notorious Chottu gang, military's media wing, ISPR, announced that the army has taken charge of the operation.

"Army troops have been deployed. Take over charge of operation. Cordon reinforced, police and Rangers already in operation will continue to participate under the army," DG ISPR Lt-Gen Asim Saleem Bajwa said in one of his Twitter messages on Saturday.

Rajanpur operation: Troops launch ground, aerial offensive


Op in Kacha:Army troops deployed.Take over charge of op.Cordon reinforced,Police&Rangers already in op will cont to participate under Army-1

— Gen(R) Asim Saleem Bajwa (@AsimBajwaISPR) April 16, 2016


While the head of ISPR clarified that Rangers and police personnel will be participating in the operation under supervision of army officers, he further pointed out that all available resources will be employed to accomplish the mission and regular updates will be shared with the media.


Op in Kacha:Whatever resources required,will be employed to accomplish mission. Updated Info about op will be shared regularly-2

— Gen(R) Asim Saleem Bajwa (@AsimBajwaISPR) April 16, 2016


Army troops had joined the police on Friday — the 18th day of Operation Zarb-e-Aahan — in an effort to rescue 20 law enforcers abducted by gangsters three days ago.

Army-led operation likely against Rajanpur gangsters

The army launched airstrikes at about 5:30pm in Kacha Jamaal and Kacha Karachi, where dozens of gangsters had holed up. Cobra helicopter gunships continued strafing the area for about an hour before releasing teargas canisters to airdrop soldiers for a search operation.

Meanwhile, a curfew was imposed in the area by the district administration, banning any public movement till further notice.

At least seven policemen have been killed and another 20 taken hostage by the gangsters. Around 18 more policemen are under treatment in different hospitals. Only three bodies of the seven slain policemen have been retrieved due to intense gunfights, with the gangsters threatening to kill the kidnapped policemen one by one.

Kacha Jamaal in Rajanpur district has served as a hideout of the Chottu gang for years and even has been named as Chottu Island by the locals. The island is about 11km in length and 6km in width.

Gangsters kill six, seize 15 policemen in Rajanpur

Ghulam Rasool, who is booked in about 154 cases of kidnapping and killings directly or indirectly, carries a head money of Rs2 million. He has a fighting force less than 200 well-armed but untrained comrades.

For the past three decades, the Rojhan sub-district has been the battleground among Mazaris, Gorchanis and Bugtis. All tribes have supported the gangsters to create a defensive shield against each other.