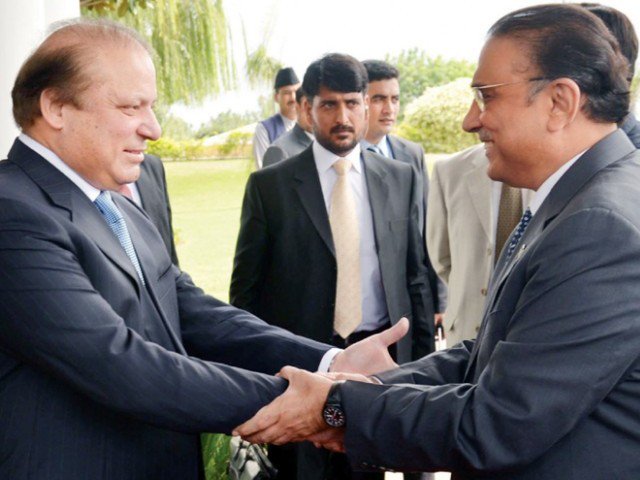 ---
Pakistan Peoples Party (PPP) chairperson Bilawal Bhutto Zardari on Friday took to Twitter to silence rumours about a possible meeting between former president Asif Ali Zardari and Prime Minister Nawaz Sharif in London.

"AZ is not meeting NS," Bilawal tweeted using initials to refer to the two politicians.

Pakistani people will have to decide whether Nawaz should resign: US


AZ is NOT meeting NS. https://t.co/FnopvkKDtd

— BilawalBhuttoZardari (@BBhuttoZardari) April 15, 2016


Both the premier and PPP co-chairman Asif Ali Zardari are in London currently. A day before PM Nawaz departed for London for a routine medical check-up, Senator Aitzaz Ahsan claimed that Premier Nawaz was actually going to London to seek Asif Zardari's support amid opposition's demand for his resignation following Panama Papers leak.

"Nawaz Sharif is going to London to pay a visit in the court of Asif Zardari," Ahsan told journalists outside the Parliament House. However, he warned that if his party bailed the prime minister out, it would suffer politically. "I will convey my views to PPP Chairman Bilawal Bhutto and Co-Chairman Asif Zardari," Senator Ahsan added.

Panama Leaks: PPP forms two teams to ponder strategy

A spokesperson for Nawaz Sharif was quick to rebut the claim. "The prime minister did not express a desire to meet the PPP leadership during his upcoming London visit," Mussadek Malik said in a statement. No such meeting is scheduled, he added.

Further dispelling rumours, Interior Minister Chaudhry Nisar on Wednesday announced there is no secret meeting planned for PM Nawaz in London and he has gone to the UK for a medical treatment.

"For the last three weeks, his health has deteriorated for which the prime minister had to travel," he said, while speaking at a press conference in Islamabad.

No 'secret meeting' planned for PM in London: Nisar

"In this country some people cannot even get ill as rumour-mongers keep on politicising the issue."

The prime minister departed for London on Wednesday for a "routine medical checkup, which was repeatedly postponed due to his official engagements over the past few months".