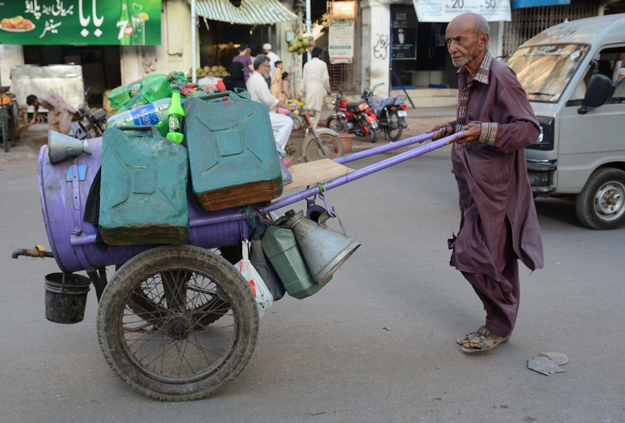 ---
SUKKUR: Climate change poses significant threat to old people, said HelpAid International programme manager Syed Moezuddin Hai.

National climate strategies must take into account the capabilities, rights and vulnerabilities of the old people. Full participation of people of all ages in these strategies is essential to make them successful, he claimed. Hai was speaking at the day-long workshop, titled 'Climate Change and Old Farmers,' held at Sindh Rural Support Organisation (SRSO) Complex on Thurday. The event was organised by HelpAge Internation and SRSO.

At present, there are 11 million old people in Pakistan and the number will increase in the next 20 to 25 years, he said. Most of them face health issues since we lack good health facilities in the country. Last year so many people lost their lives in Karachi due to heatwave and most of the victims were elderly people, he said.

Speaking about HelpAge International, he said that it works to provide a respectable life to the old people. Government officials and employees of some other institutions get pension after retirement. However, labourers and farmers do not get any such benefits, he said. "We engage in advocacy with the government in connection with climate change, especially for the older people who work on agricultural fields."

Global warming

Climate change directly or indirectly affects all human beings, remarked HelpAge International Sindh chapter programme manager Shahzado Khaskheli.

Global warming started back in 1880s, but it has gained momentum since 1950 onwards, he said. The natural disasters including, floods, hurricanes, tsunamis, thunderstorms, earth quakes, heatwave are increasing with the climate change. In 2010, 510 natural disasters were reported worldwide, he added.

Helping hand

To provide a better and respectable life to the old farmers, SRSO has established a community-based organisation, 'Surhan Older People Association', in Shikarpur and Jacobabad.

The association helps in creating awareness in the communities regarding the rights of old people. Since the organisation started more than 100 people have joined it, said Surhan Older People Association Shikarpur chapter president Khan Muhammad Memon while speaking to The Express Tribune.

The association holds meeting with district administration, elected representatives and other influential persons to fight for the rights of old labourers. Peasants work in the agricultural fields without discrimination of age and gender, said Memon. However, this is unjust as the working hours for the older peasants should be curtailed, with no effect on their income. Besides, land owners should take care of older peasants and provide them with better facilities, he added.

Published in The Express Tribune, April 15th, 2016.
COMMENTS
Comments are moderated and generally will be posted if they are on-topic and not abusive.
For more information, please see our Comments FAQ