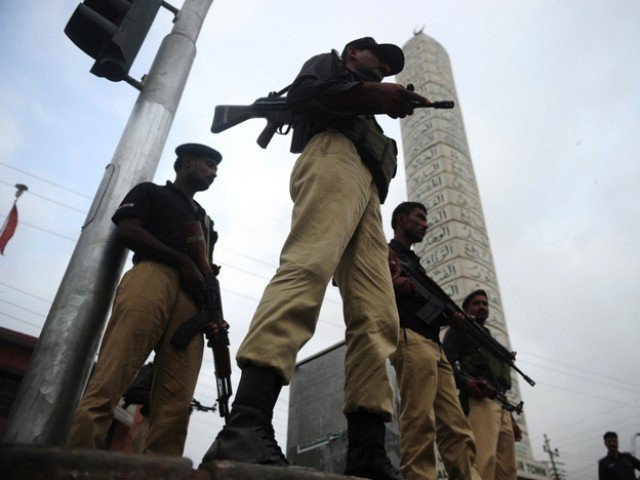 ---
KARACHI: Sindh Police's Counter-Terrorism Department (CTD) claimed on Wednesday to have discovered a 'bomb making factory' inside an underground water tank in Gadap Town.

The CTD officials killed at least two members of a terrorist group and arrested one of the militants after an exchange of fire. The officials said that the suspected militants were planning to carry out major acts of terror in the metropolis.

Karachi on high alert after circular by intelligence agencies

The gang belongs to alQaeda in the Indian Subcontinent (AQIS), said CTD incharge Raja Omar Khattab. "They were also involved in attacks on law enforcement agencies, particularly attacking Rangers check posts, police stations and vans with improvised-explosive devices," he added.

The officer said that the group was engaged in terrorist activities in Karachi for the last eight months. The CTD was trying to trace the group for a while, he said, adding they received a tip-off on the group's hideout.

"First, we kept proper surveillance before conducting the raid and then we raided their hideout along with Special Security Unit commandos," said Khattab. The law enforcers managed to kill them and arrested one of the accused, he said, adding that the alleged militants also attacked them with hand grenades but none of the law enforcers were injured.

The slain militants were later identified as Abdul Saboor alias Hammad alias Hassan alias Younus alias Saad and Muhammad Mujtaba alias Rehan alias Aslam alias Kashif alias Wali alias Abdur Rehman. The arrested suspect was identified as Murtaza alias Benam alias Abu Huraira. The officials also set fire to the terrorists' hideout after the raid and seized nearly 80 kilogrammes of explosives, bottle bombs, ball bombs, hand grenades, Kalashnikovs, pistols, circuits, ball bearings, laptops, USBs, memory cards, jihadi literature, explosives material and an explosives-laden motorcycle. A case has been registered.

The accused, Rehan, was an expert in making bombs. He was dispatched to the city by AQIS after he was made the chief of Karachi chapter in 2015, following the killing of their former chief Noor Khan.

Terror bid foiled: Police arrest three suspected terrorists from DI Khan

"A majority of the bomb attacks on law enforcers since 2013 were carried out by this group, while all the bombs used in attacks on law enforcers this year were made by Rehan," the officer claimed. He said that the arrested suspect has also revealed that the militants of Harkatul Mujahideen alAlmi are busy recruiting youth in the organisation, especially from Shadman Town, Surjani, North Karachi, Orangi and Korangi. "Their aim is to brainwash youth to recruit them in [terrorist groups]," he said.

Zarar alias Naseem Bhai alias Hanif Bhai alais Ayub Bhai, the former member of Harkatul Mujahideen alAlmi, is responsible for terror activities in Karachi. "He, along with his comrades, joined AQIS after he was released from jail," said Khattab, adding the accused used USBs, memory cards and the internet to coordinate. Baramcha in Afghanistan is the AQIS headquarters from where it is being operated.

Published in The Express Tribune, April 14th, 2016.