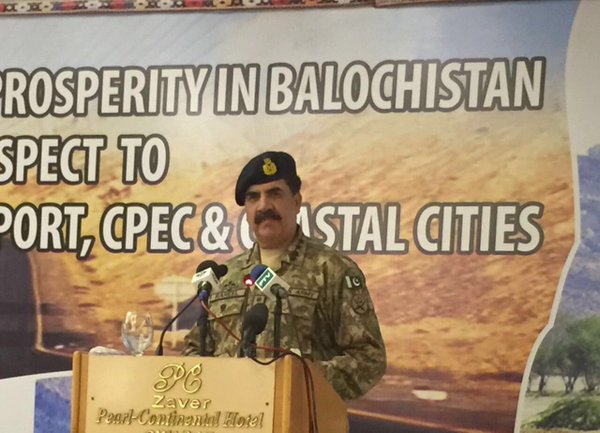 ---
ISLAMABAD: Chief of Army Staff General Raheel Sharif said on Tuesday that the India's premier spy agency was blatantly involved in destabilising Pakistan as well as and the multibillion-dollar China-Pakistan Economic Corridor.

"Hostile intelligence agencies averse to this grand project [CPEC], especially Indian intelligence agency RAW [Research and Analysis Wing] which is blatantly involved in destabilising Pakistan," the COAS was cited as saying at the seminar titled, Peace and Prosperity in Balochistan and CPEC, held in Gwadar.

According to the Inter-Services Public Relations (ISPR), the army chief said he would not leave any stone unturned to make the economic corridor a regional success.

Politicking may hurt CPEC, says World Bank

"As COAS, I assure you security of CPEC which is our national undertaking. We won't leave any stone unturned and continue to close watch at every step," he added.

General Raheel assured the CPEC project will go as planned no matter what it takes as it is a reflection of all-weather Pakistan-China ties. "CPEC, a reflection of Pak-China friendship, will be truly realised whatever it takes. This year we will move cargo from China to Gwadar and beyond."

Transparency and good management are important factors for the success of CPEC, and that socio-economic justice will increase the masses' stake in the national unity, he added.

Zarb-e-Azb in final stages

Speaking about the continuing offensive against militants in the Federally Administered Tribal Areas (Fata), the army chief said the Operation Zarb-e-Azb is now in its final stages, and Pakistan has come a long way in its fight against terrorism to pave the way for stability.

He urged the international community to not only acknowledge the sacrifices made by the Pakistan Army against terrorism but also help the country block external aid for terrorist organisations, their financers and abettors.

"Operation Zarb-e-Azb [is] not only an operation but wholesome concept. [It] aims at breaking the syndicate of terrorism, extremism and corruption," Gen Raheel said.
COMMENTS (16)
Comments are moderated and generally will be posted if they are on-topic and not abusive.
For more information, please see our Comments FAQ