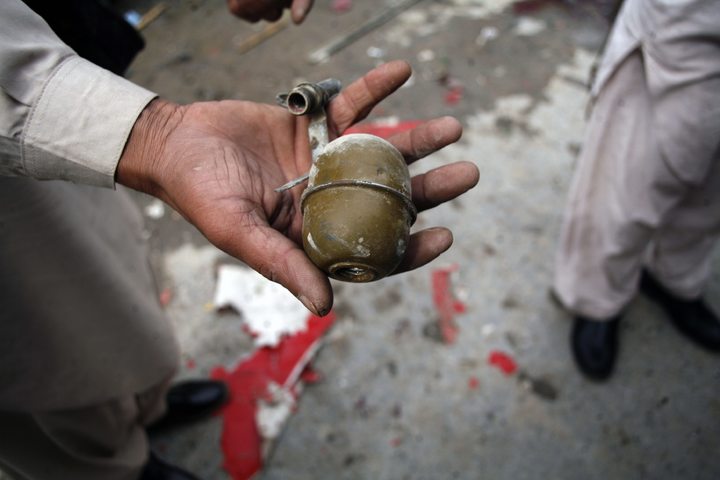 ---
KARACHI: A policeman and a court staffer were injured when a hand grenade exploded inside a courtroom of an anti-terrorism court (ATC-III) in Karachi on Monday.

The dramatic incident, occurred during the trial of a man accused of being an extortionist and gangster who had carried out several grenade attacks.

Police claimed to have recovered a stash of grenades when they arrested him.




During the course of proceedings Judge Shakil Haider asked police to demonstrate how the device worked, a lawyer told AFP.

"Upon the request by the judge, the investigator tried to demonstrate the working of the grenade by pulling something out of it," defence lawyer Abdul Jabbar Lakho told reporters.

Special courts: Another ATC for capital

Senior police official Jamil Ahmed confirmed the incident, adding the part which exploded was the detonator which was thought to have been defused.

The explosive surrounding the detonator had already been made harmless, he said.

"We are investigating as to how the detonator was brought to the court without being defused," Ahmed added.

Taking notice of the incident Sindh Home Minister Sohail Anwar Sial instructed Karachi Police's Additional IG to conduct an inquiry and take strict action against officials involved in the negligence.




The home minister while talking to media said a standard operation procedure (SOP) had been set up to neutralise the explosives before bringing them to the court which was not followed in this case.

The ATCs were established after promulgation of the Anti-Terrorism Act (ATA) 1997, to fast-track cases against terrorists.

In court: Non-bailable warrants issued for MQM workers in Amir Khan case

Under the provisions of the ATA, 1997, the ATC is required to decide a case within seven days after taking cognisance of the case.

In 2014, the number of ATCs in Karachi was increased to 10 after provincial government of Sindh set up another five, following the Supreme Court's (SC) directives to curtail the escalating lawlessness in the city through expeditious trials of criminals.
COMMENTS
Comments are moderated and generally will be posted if they are on-topic and not abusive.
For more information, please see our Comments FAQ