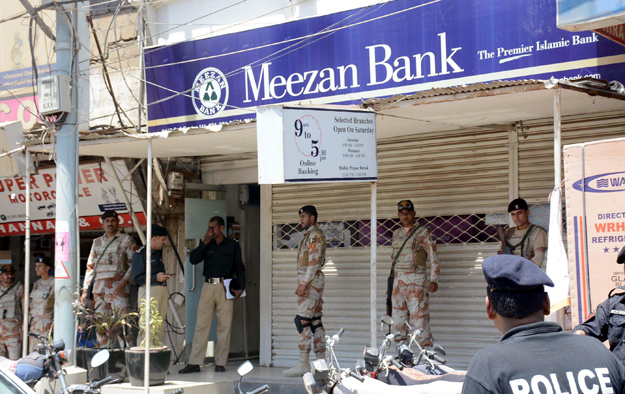 ---
KARACHI: A branch of Meezan Bank in Korangi was robbed of Rs8 million by nearly half a dozen suspects on Tuesday. This is the second time in around three years that the branch has been robbed, said the police.

A group of armed men arrived at the branch, located at Korangi No. 2, at around 10:30am. Police officials and witnesses said the gang comprised nearly half a dozen men who, before entering the premises, first held hostage the security guard, identified as Talib Hussain and later moved towards the cash counter inside. Later, the robbers easily escaped with the loot. Officials from the district police, counter-terrorism department and special investigation unit reached the bank after being informed of the robbery and initiated investigation.  The investigators obtained fingerprints of the robbers. DSP Ghulam Nabi Wago said at least five people participated in the robbery - two stayed outside the bank while the rest went in. "The good thing is that the robbers did not take the CCTV cameras away while fleeing," said the officer, adding that "We are trying to trace and arrest them with the help of the CCTV footage."It took the robbers around eight minutes to complete the entire operation, he explained, adding that they managed to take away over Rs8 million.

The police have detained at least two security guards of the bank on suspicion of being involved and registered a case against unidentified persons.

Police officials said in 2013, the same branch was also robbed.

Published in The Express Tribune, April 6th, 2016.