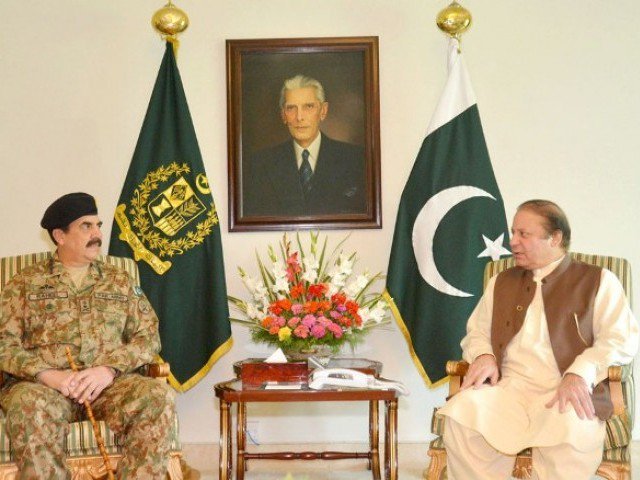 ---
ISLAMABAD: Prime Minister Nawaz Sharif and army chief General Raheel Sharif discussed the Punjab operation at the PM House on Monday.

"After the Easter carnage in Lahore this is the first interaction between the premier and the army chief," a source told The Express Tribune on Monday, adding that requisitioning the Rangers in Punjab is under discussion.

Govt decides not to call Rangers in Punjab

Following the Lahore attack, General Raheel Sharif ordered a Punjab-wide operation against suspected militants and their facilitators. However, a day after the army chief's orders, PM Nawaz and his cabinet agreed not to requisition the paramilitary Rangers for any operation in Punjab with special policing powers. The source went on to add that the premier was still adamant about his stance.

Govt decides not to call Rangers in Punjab

Matters pertaining to national and internal security of the country also came under discussion, according to a statement issued by the PM House.

Detained Indian spy confesses to RAW's involvement in Balochistan

The top civil-military brass is also said to be discussing the recent arrest of RAW agent Kulbhushan Yadav. "The military has expressed concerns, that the federal government is not taking the matter more seriously," the source said.

In a joint press conference with Information Minister Pervez Rashid held last month, military spokesperson Gen Asim Bajwa said Kulbhushan Yadav was a serving Indian naval officer whose primary mission was to foment terrorism in Karachi and Balochistan.

Army to launch crackdown in Punjab after bomb kills 70: sources

Issues pertaining to the Pak-Afghan border also came under discussion in the meeting. Interior Minister Chudhary Nisar Ali Khan, Finance Minister Ishaq Dar and DG ISI Lt General Rizwan Akhtar were all in attendance.

According to sources, the civil-military huddle is being held amid efforts by Nisar and Punjab CM Shahbaz Sharif to bridge the gap between the army and civil leadership over the Punjab operation.