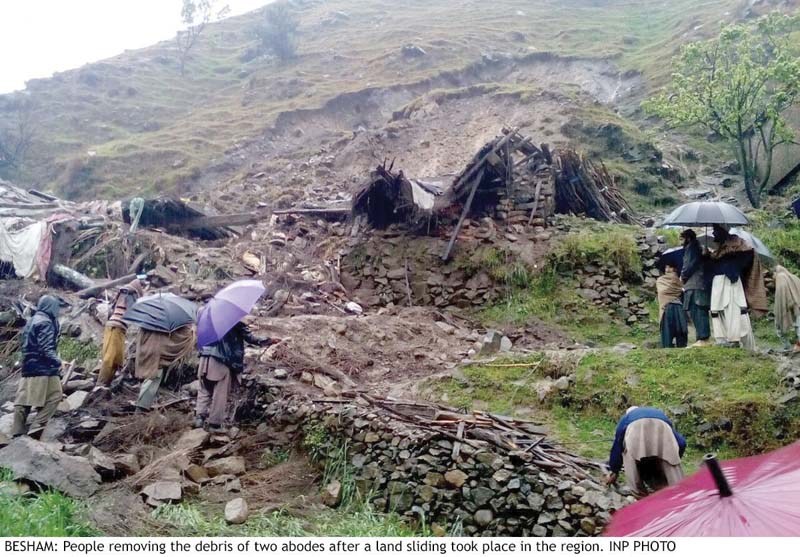 ---
CHITRAL/ MUZAFFARABAD/ SWAT/ BANNU/ DIR/ SHANGLA/ MARDAN/ KOHISTAN/ PESHAWAR/GILGIT:



At least 63 people were killed and dozens injured when an 'unusual weather system' dumped heavy rains on much of Pakistan's north, triggering flashfloods and landslides, and causing roofs of dozens of houses to collapse on Sunday.




Khyber-Pakhtunkhwa was deluged with some of the heaviest rainfall since Friday when the downpour started. Particularly hard hit was the mountainous northern region of the province where most casualties were reported.

Rains kill at least 45 in parts of K-P, FATA




The Provincial Disaster Management Authority (PDMA) confirmed 45 fatalities in K-P.  The break-up shows that 14 people died in Shangla, mostly by drowning or in roof collapse and landslide incidents; another 12 people were killed in Kohistan; eight in Swat; two each in Bannu, Batagram and Mardan; and one each in Malakand, Dir Upper, Mansehra, Charsadda and Chitral.

Forecasters predicted unstable weather would continue over the next 24 hours, especially in Malakand and Hazara divisions. "People in Malakand and Hazara should remain alert as widespread rain is expected there," said Mushtaq Shah, director at the Pakistan Meteorological Department (PMD), Peshawar.

In Islamabad, PMD Adviser Dr Qamaruz Zaman Chaudhry said such heavy rains at this time of the year were unusual. "These erratic weather conditions can easily be attributed to climate change," he told The Express Tribune.

Chaudhry said the government should implement the climate change policy and take other precautionary measures, including early warning systems and timely evacuation of people from low-lying areas, to avert losses. "The authorities should be prepared for erratic weather patterns in future too," he added.

Under dangerous skies: K-P's unpredictable weather still tacked with old methods

In Peshawar's Sarband Road area, over two dozen roadside cabins were swept away by a flooding stream, though no casualties were reported. Over two dozen shops were also washed away by a flashflood in the Battathal area in Bara Sheikhan, on the edge of Peshawar. Authorities asked residents to evacuate their houses in anticipation of more flooding.

The city's drainage system failed as streets and roads were flooded, leaving the city virtually immobile. The general bus stand, Kohat bus stand, Pajagi Road, Charssada Road, Nishtarabad, Budni, Nothia, Ramdas, Kakshal, Ring Road and GT Road were inundated. Electricity supply was also partially disrupted in the city as some feeders tripped in the rain, but the Peshawar Electric Supply Company claimed power supply was disconnected for safety purpose.

In Chitral, heavy downpour triggered landslides and caused flooding in the rivers and streams. Main roads and their branches in the mountainous areas of Buni, Shagram, Laspur, Mastuj and Tor Kaho were also blocked as heavy boulders and mud fell on them.

Rain-induced flooding in the Panjkora River swamped several villages and hamlets in Dir where administration banned catching of logs from the river. According to the PDMA, rain-induced floods and landslides blocked the main road and byroads in Shangla, disconnecting the main town of Alpuri from the rest of the district.

The administration in Kohistan confirmed 12 fatalities in the district. Assistant Commissioner of Dassu Tehsil Muhammad Abid told The Express Tribune that the deaths were mainly caused by lightening. Landslides also blocked several roads in the dirt-poor district of K-P.

The provincial irrigation department issued a flood warning, saying the water level in the Kabul River could go up to 120,000 cusecs.

K-P's neighbouring tribal regions also received heavy rains. The Fata Disaster Management Authority said the downpour damaged public and private property but did not cause any casualties.

Damages and deaths in G-B

In Gilgit-Baltistan, the regional government declared a state of emergency after 10 people died in rain-related incidents. "The chief minister has directed the administration to help the affected people," said Farooq Ahmed, an official in the information department.

K-P on high alert as heavy rain on the horizon

Diamer district was the worst hit. According to police spokesman Abdul Wakeel, four members of a family were killed and three others injured early Sunday after the roof of their house collapsed in the Chechen area of Chilas town. The victims included a man, his two daughters and one son. His wife and another daughter survived with injuries.

Moreover, five people died in Tangeer valley and a man was killed in Thore valley, the police spokesman said. "The death toll has risen to 10."

Officials said heavy rain also damaged the road infrastructure in Diamer, including parts of the strategic Karakoram Highway and other roads linking Darel and Tangeer valleys. Residents said nearly two dozen houses were damaged or destroyed in Ghizer valley. Similar damages were reported from other valleys, including Astore and Gojal, where incessant rain has paralysed life.

Similarly, a road connecting Skardu, Hunza, Ghizer, Diamer and Rawalpindi has been blocked by huge boulders and tons of mud that slid down the mountain overlooking the highway. Landslides also damaged the hydropower generation units in Naltar, Kargah and Jaglote, causing a massive power breakdown in the region.

Eights of a family die in AJK

Rain-related damages were also reported across Azad Jammu and Kashmir (AJK). A massive landside buried a house in the Samgam Sharda village of Neelum Valley, killing at least eight members of a family on Sunday.

Administration officials said the victims included five children and three women. Another woman was pulled out alive from the rubble of the house.

Deputy Commissioner Hameed Kiyani said the landslide hit the house in Samgam village, some 160 kilometres away from Muzaffarabad, Sunday morning. "Three more houses were also damaged," he added.

Pakistan Army soldiers, administration officials and residents mounted a rescue operation amid heavy downpour and snowing in the village.  The injured woman was shifted the Kel military hospital where medics said her wounds were not life threatening.

Published in The Express Tribune, April 4th,  2016.
COMMENTS
Comments are moderated and generally will be posted if they are on-topic and not abusive.
For more information, please see our Comments FAQ