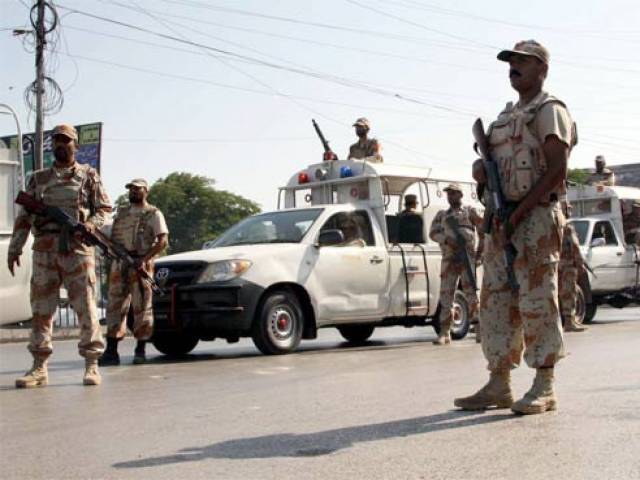 ---
ISLAMABAD: Prime Minister Nawaz Sharif and his cabinet agreed not to requisition the paramilitary Rangers for any operation in Punjab with special policing powers.

The decision came a day after Army chief General Raheel Sharif ordered a Punjab-wide operation against suspected militants and their facilitators. Dozens of suspects were rounded up in the raids that continued on Tuesday.

Army to launch crackdown in Punjab after bomb kills 70: sources

According to a statement issued by the Prime Minister House on Tuesday, Premier Nawaz held a consultative meeting with his cabinet and senior political leadership.  Federal ministers – Chaudhry Nisar Ali Khan, Pervaiz Rashid, Ishaq Dar, Khawaja Saad Rafique and Abdul Qadir Baloch – as well as Senator Mushahidullah Khan, Dr Asif Kirmani and Irfan Siddiqui attended the meeting. The statement did not say what transpired in the meeting.

However, sources privy to the meeting said the prime minister said, "There is no room for any [military] operation in Punjab as there are neither any safe havens of terrorists here nor a territory is controlled by militants". Nawaz was of the view that there was a difference in the situation in the tribal areas or Karachi and that of Punjab. He said only intelligence-based operations – conducted by the Counter Terrorism Department – could be successful in the province. Nawaz said Sunday's suicide attack in Lahore was an intelligence failure.

The PM said South Punjab was already poverty stricken and it needed good governance rather than a military operation. However, he directed the Punjab government to own the ongoing operation by the military and paramilitary forces.

Earlier, the leaders discussed the pros and cons of calling in the military and paramilitary forces with special policing powers under the ATA 1997. Some of the meeting participants were of the view that the ruling party would face political damage whether it requisitioned the Rangers or not.

No 'joint action' with police: Gen Raheel

They said if they requisitioned the Rangers with special policing powers, then at least 40 to 50 MNAs and MPAs of the party would be picked up over their alleged involvement in minor crimes.  Sources said the party leadership was of the view that if their lawmakers were picked, then a negative impression of the party would develop which would damage the party in the 2018 election.

However, some members said that in case the government did not requisition the Rangers, then it would also suffer from political damage as political parties would start their campaigns against the PML-N over not calling the Ranger in Punjab.

Published in The Express Tribune, March 30th,  2016.