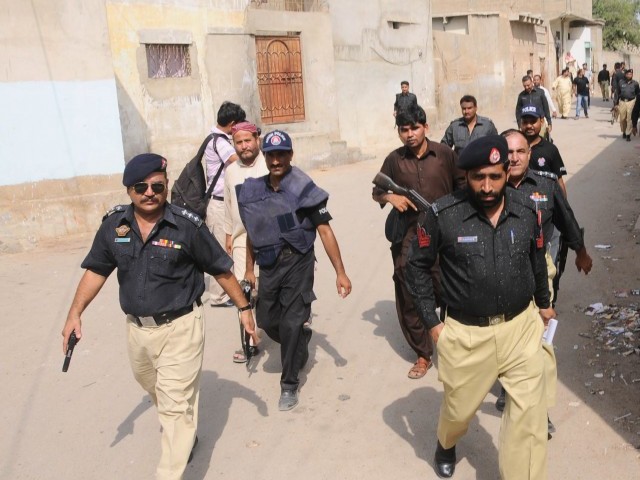 ---
SUKKUR: Two kidnapped girls recovered after an exchange of fire between outlaws and police in Anwarabad Muhalla of Ghotki on Saturday have been identified as Khairan and Irfana Lolai, said officials on Sunday.

The girls, whose father, Qadir Bux Lolai, was killed in a tribal feud five years ago, were working as domestic servants at the residence of Jan Muhammad Lolai, son of notorious dacoit Moso Lolai.

On Saturday, Ghotki town turned into a battlefield as Shikarpur police, without informing Ghotki police, tried to raid Jan's house, said locals. The resultant gunfight left three dead, including a minor, and five injured, including two policemen.

Police had arrested five persons, including two sons of Moso, besides taking into custody two women and as many girls. The operation, according to the police, was conducted to recover Fazila Sarki, a girl kidnapped from Garhi Hassan Sarki near Thull district, Jacobabad over eight years ago.

The recovered women and girls were shifted to Shikarpur where Fazila's father was called to potentially identify his daughter among them. He failed to identify any of them as his missing daughter.

"My dreams were shattered when I didn't find my daughter among those girls," said Abdul Razzaq Sarki, while talking to The Express Tribune. "Despite clear orders of the Supreme Court and Sindh IG, I don't know what hampers the police to recover my daughter," he asked.

Those killed in the raid have now been identified as minor boy Shahzaib Channa, Sanwan Lolai and Haq Nawaz Ghoto. The injured have been identified as policemen Nisar Sadhayo and Ali Asghar Ghoto, and one of the remaining three as Suhno Lolai. Lolai was referred to a hospital in Rahim Yar Khan in critical condition, while both policemen were referred to Civil Hospital, Sukkur.

'Innocent killed'

Following the incident, a large number of people, including women and children, blocked National Highway in protest by placing bodies of their loved ones on the road. The protesters shouted slogans against the police, blaming them for killing and injuring innocent persons during the raid and arresting others.

After a while, senior police officers reached the spot, and following negotiations, managed to get the protesters to disperse peacefully. They promised demonstrators that their loved ones would be released from custody soon.

On Saturday, Ghotki SSP Saqib Sultan Mehmood had told journalists that the slain persons were criminals killed in the crossfire. However, the police are yet to produce a single pending case against the deceased despite a lapse of 24 hours, whereas one of the deceased is a minor.

Shikarpur and Ghotki SSPs were not available for comments. The public relations officer (PRO) of SSP Ghotki Agha Waqar admitted to The Express Tribune that Shikarpur police had not informed them about the operation in advance, saying sometimes the procedure [of not informing] is followed to maintain secrecy. Sukkur DIG Azhar Rasheed Khan could also not be reached. His PRO, Anwar, said, "I am in Karachi on leave for last the two days and know nothing about the police operation in Ghotki," he said.

Published in The Express Tribune, March 21st,  2016.