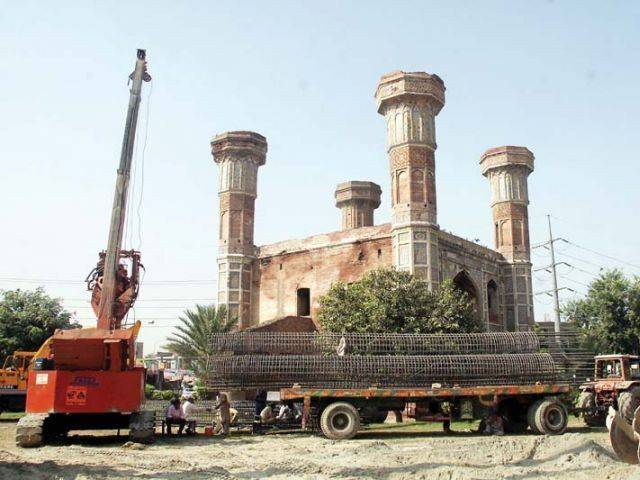 ---
LAHORE:



The Punjab is set to receive that first tranche of a loan from China's ExIm Bank in connection with the Orange Line Metro Train Project in a couple of weeks, Finance Minister Ayesha Ghaus Pasha said on Thursday.




Pasha made the remarks while speaking to newsmen. Pasha said the government had already initiated the billing process in accordance with the terms of the loan. The finance minister refuted the opposition's claim that the cost of the train project would come to Rs200 billion. "It is a Chinese initiative being financed by the nation's ExIm Bank. The Punjab government is not making any investment in the project. The project's total cost is Rs160 billion," she said.

Metro train project: Govt, Chinese bank ink Rs162b loan agreement

Speaking about the local government finances, Pasha said the government would initially issue an interim finance award to institute the local government system across the province. That done, she said, the government would constitute the Provincial Finance Commission (PFC) as per the provisions of the Punjab Local Government Act. Pasha said the primary source of funding for local governments would remain the PFC award but the government would also try to empower them through other revenue streams. "Property tax collection is a function of local governments. The government has been collecting the tax on their behalf. These funds will be transferred to local governments once the new system is in place," she said.

Responding to a question, Pasha said the government had established various companies and authorities just to improve service delivery. She said the impression that the government wanted to strengthen its grip on power and resource allocation by doing so was an erroneous one. Pasha said the government would complete the transition process in a transparent manner. The local government system would improve and strengthen with the cooperation of all stakeholders, she said.

27 trains to be acquired for metro project

Earlier, the government had decided to release a Rs2 billion grant to establish the local government system in the Punjab. It was announced that the government would release Rs500,000 and Rs400,000 per union council in urban and rural areas respectively for procurement of office fixtures and maintenance of newly elected public representatives. 

Published in The Express Tribune, March 18th, 2016.