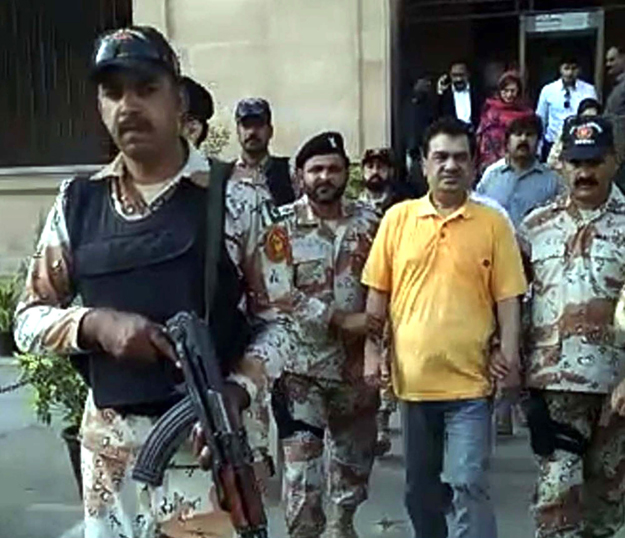 ---
KARACHI: The Rangers are investigating former head of the Fishermen Cooperative Society (FCS), Nisar Ahmed Memon alias Nisar Morai on allegations of extortion, kidnapping and target killing.

The paramilitary force informed the administrative judge of anti-terrorism courts, Justice Syed Farooq Shah of the Sindh High Court, about Memon's 90-day preventive detention on Wednesday.

Preventive detention: Rangers hold fishermen society's officer for target killing, extortion

Rangers said the former FCS chairperson was allegedly involved in embezzlement of public money and financing terrorism.

Memon, said to be an important figure within the ranks of Pakistan Peoples Party in Sindh, was arrested from Islamabad last week during an intelligence-based operation by security agencies, it was reported. However, the paramilitary force claimed they arrested the suspect from within the remits of Darakhshan police station, but did not mention the date of his arrest.

Memon had mysteriously disappeared a few months ago when the paramilitary force arrested his deputy at the FCS, Sultan Qamar Siddiqui, along with Muhammad Khan Chachar, Rana Shahid and Kamran Abbasi. Siddiqui was later handed over to the police for his alleged involvement in the Safoora Goth bus attack.

The documents submitted before the judge said the paramilitary force had credible information against the suspect for his alleged involvement in the offences falling within the ambit of the Anti-Terrorism Act. Therefore, he is being taken into custody for 90 days as allowed in Section 11EEEE of the act for questioning, it added.

Law and order: Rangers hailed for peace efforts in Karachi

According to sources, Memon is accused of running an extortion ring in collusion with Lyari gangsters. The amount in question is said to run into hundreds of million rupees. The FCS board, earlier presided over by Memon, has now been dissolved by the provincial government and a senior bureaucrat now holds the charge as its chief.

Published in The Express Tribune, March 17th, 2016.