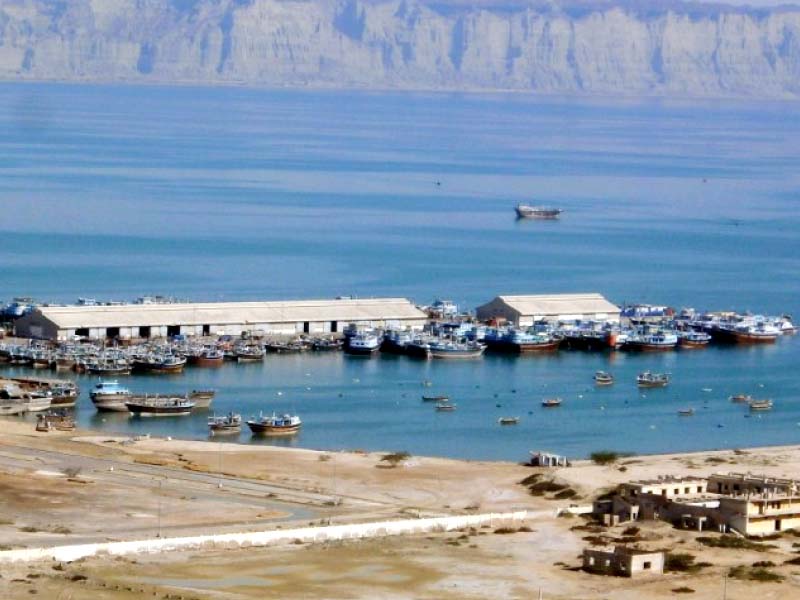 ---
LAHORE: Gwadar possesses immense strategic lure and could emerge as a key shipping point, said China Overseas Ports Holding Company Chairman Zhang Bao Zhong, while addressing a Memorandum of Understanding (MoU) signing ceremony arranged by the Pak-China Joint Chamber of Commerce and Industry.

The MoU was signed between North South Transport Network (NSTN) Private Limited Pakistan and Gwadar International Terminal Limited (GITL) on Thursday at the PCJCCI premises.

Gwadar, Chabahar to be made 'sister port cities'

The agreement has been inked in order to complement and fortify the common interests and objectives amongst the parties with respect to co-operation in the development of the Gwadar port.

According to the MoU, GITL intends to provide land for warehousing and storage of goods/containers to NSTN, basis to anticipate the initial which serve as the monthly volume of 200-250 containers or 5,000-6,000 tons of cargo and up to 2,000 tons or 25,000-30,000 tons of cargo.

"Gwadar is the jewel in Pakistan's economy. If it is combined with the surrounding areas through communications infrastructure, it could become a new Asian trade nucleus," said the COPHC chairman.

"Currently, the transport and logistics sector (trucking, freight forwarding and warehousing) contributes around 0.38% to the GDP, and about $650 million to the national income," said PCJCCI Senior Vice President S M Naveed.

"By attracting 5% of China's international cargo volume, the three transport and logistics subsectors could earn up to $6 billion annually, creating 9,000 new enterprises and 400,000 new jobs in the country," he added.

Meanwhile, GITL CEO Capt Xiaolong Dai was of the view that up till recently, Gwadar had been a deserted area and China, this year, is determined to speed up the development process so as to involve more and more people to trigger the economic circle in Gwadar. "The MoU signed for the development of logistics sector would prove to be a catalyst to the economic activity in the city." he said.

Exploring opportunities: Seminar highlights Gwadar's potential

"Gwadar, being an international city, would emerge as a financial center and trading pivot of the region, which will definitely attract talented residents from Pakistan and abroad. Therefore, its local governing structure should be able to embolden resident entrepreneurs, traders, financiers, artists, and other circles of intelligentsia to become part of the governing bodies of the city," added NSTN CEO Muhammad Anwar.

Published in The Express Tribune, March 4th, 2016.

Like Business on Facebook, follow @TribuneBiz on Twitter to stay informed and join in the conversation.
COMMENTS (3)
Comments are moderated and generally will be posted if they are on-topic and not abusive.
For more information, please see our Comments FAQ