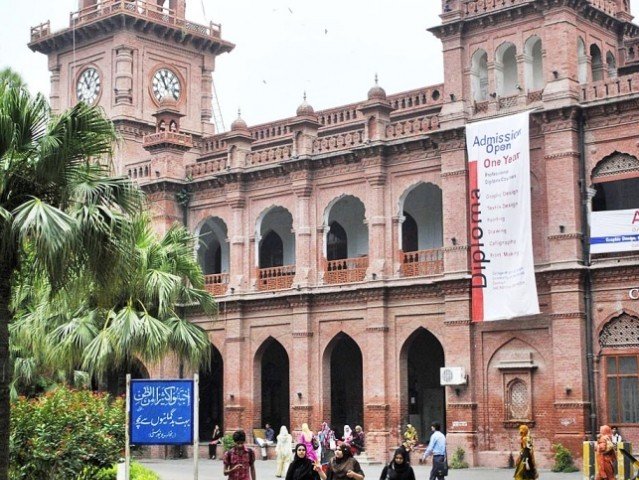 ---
LAHORE:



Higher education institutions (HEI) in the Punjab showed an overall decrease in quality with only a select few recording a marked increase in standing vis-a-vis the 2014 HEC rankings.




The Punjab University rose to the second position from third place in 2014. The University of Agriculture Faisalabad (UAF) declined from second spot in 2014 to the fourth position. The University of Health Sciences (UHS) rose one position, from number 10 in 2014 to nine, while the University of Veterinary & Animal Sciences (UVAS) Lahore dropped one place from ninth to 10th.

The biggest blow for the Punjab came in the general category. While 12 HEIs were downgraded from their 2014 positions only nine were able to up their ante. Three new universities, however, were able to secure a place in this year's rankings. These were the Ali Institute of Education (58th), the University of Wah, (59) and Rawalpindi's Pir Mehr Ali Shah Arid Agriculture University.

The National College of Business Administration and Economics recorded the greatest decline in standing going from spot 19 in 2014 to 57 in 2015. The University of Management and Technology also did not fare too well, falling from number 23 in 2014 to number 36 in 2015. The Islamia University Bahawalpur made most progress, rising from 51 in 2014 to 11 in 2015 followed by Forman Christian College University which went from 50 in 2014 to 20 in 2015.

Among other prestigious institutions, the Lahore University of Management Sciences rose by one position, from seven in 2014 to six in 2015.

The Beaconhouse National University and the University of Lahore gained 10 spots each. The Government College University Lahore dropped from 10 in 2014 to 14 in 2015.

In the business category, five universities from the Punjab made it to the list of 15 HEIs. In the engineering category, the number of Punjab-based universities rose from two in 2014 to four in 2015.

The ranking in the arts category remained the same. In medicine, only two HEIs from the Punjab made it to the list with  the UHS retaining the second spot and King Edward Medical University gaining one rank—from seven in 2014 to six in 2015.

Both the first and second place in agriculture were secured by Punjab-based HEIs.

Published in The Express Tribune, February 28th, 2016.
COMMENTS
Comments are moderated and generally will be posted if they are on-topic and not abusive.
For more information, please see our Comments FAQ