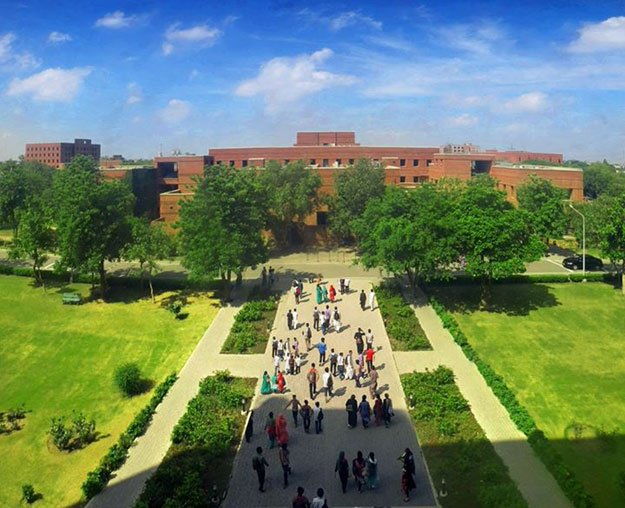 ---
ISLAMABAD: Quaid-e-Azam University has been ranked Pakistan's best university in the general category, according to rankings for 2015 released by the Higher Education Commission (HEC).

University of Punjab in Lahore and National University of Science and Technology (NUST) secured second and third positions respectively, as per the HEC as chairperson Dr Mukhtar Ahmed unveiled the rankings of 129 universities in Islamabad on Tuesday.

Here's how 6 Pakistani universities ranked worldwide

The ranking was finalised on basis of quality assurance, teaching quality, research, finance and facilities and social integration and community development. "Community development will be integral part in universities to create the environment of social integration and affiliation," the HEC chairman said.

In overall ranking, QAU and PU were not a surprise but NUST which secured third spot jumped three spots higher than last year. University of Agriculture, Faisalabad dropped to the fourth position after securing second place last year. Similarly, Comsats Institute of Information Technology dropped down to sixth position compared to fourth last year.




NUST tops rankings for Engineering & Technology

National University of Sciences and Technology (Nust) in Islamabad retained the top slot in the "Engineering & Technology" category, while Pakistan Institute of Engineering and Applied Sciences, Islamabad remained in second place.

LUMS or IBA?

Ghulam Ishaq Khan Institute of Engineering Sciences and Technology, Topi emerged on the third spot pushing University of Engineering and Technology, Lahore to fifth place.




Iqra University tops rankings for Business Education

Surprisingly, Iqra University, Karachi emerged as the highest-ranked university in the category of Business Education. The university did not make it to the top five last year. However, the HEC chairman explained, "The university is producing some good number of PhDs and that is why it has been ranked the highest."

The five things you got wrong about LUMS

Lahore School of Economics, Lahore retained its second place while Institute of Business Administration, Karachi dropped down to third position.




University of Agriculture in Faisalabad tops rankings for Agriculture/Veterinary

University of Agriculture in Faisalabad and University of Veterinary & Animal Sciences in Lahore retained the first and second place in "Agriculture/Veterinary" category respectively. University of Agriculture, Peshawar which was previously ranked fourth jumped one spot higher to be ranked third.




Aga Khan University tops rankings for Medicine

Aga Khan University was accorded the highest rank in the disciplines of "Medicine". The medical university in Karachi was followed by University of Health Sciences in Lahore and DOW University of Health Sciences in Karachi, respectively.

Why Pakistani universities need to offer more than just social sciences and BBA

The rankings for this category remained the same as last year except Isra University, Hyderabad secured fifth position after replacing Riphah International University, Islamabad which did not make it to the top 13 of this category.




NCA tops rankings for Arts

Of only two universities ranked by the HEC for Arts, the National College of Arts (NCA) in Lahore secured the first rank, while Indus Valley School of Art and Architecture in Karachi came in second.




The HEC chief further stated that the data for 2014-15 will be finalised in the ongoing year and its ranking would be released in the same year.