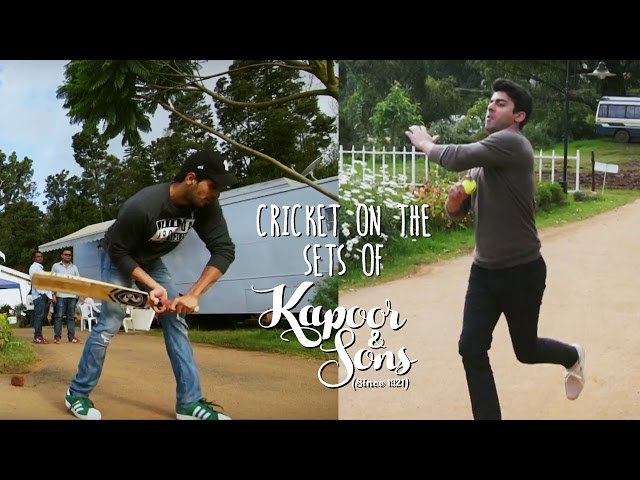 ---
Cricket is not a sport Indians and Pakistanis take lightly and Fawad Khan and his Kapoor & Sons co-star Sidharth Malhotra have proven just that.

In a behind-the-scenes video released by makers of Kapoor & Sons, the Pakistani heartthrob and Bollywood actor Sidharth Malhotra can be seen proving their prowess on the cricket field.

In case you are wondering why they were playing cricket instead of shooting, Sidharth in the video reveals, "This crew has played more cricket and worked less on the shoot."

Fawad Khan and Sidharth played Pakistan vs India cricket matches on sets

The video features an India vs Pakistan cricket Test match with  Fawad and Sidharth on opposing sides. But unlike actual matches, these two enjoy their time, having a ball on the field.

"My team was always better, we won a lot of championships," boasts Sid as Fawad scoffs in the background.

"Do you guys have a hole in your hands? God gave you two hands," asks Fawad as his team player drops a catch.

Caught on camera: Fawad lets loose on set of 'Kapoor & Sons'

The best part about the match has to be Fawad's enthusiasm and passion as he played. Never have we truly seen the actor all fired up in front of the camera.

Watch it here:


And fans loved it!


@S1dharthM @_fawadakhan_ you and fawad made me remember my school/college days when I was playing cricket, so childish it was.

— SidMalhotra Fanpage💐 (@ShwesthaCreator) February 12, 2016
WAOW MAZZA AGAYA😂 Fawad is so hyper whn it comes to cricket😂 nd knows everything about it!🙌 PAKISTAN KE HAI BHAEEE😆😆🙌💃💃💃💃😍 @_fawadakhan_

— ռᾀɢʑ (@jhalli_nagz) February 12, 2016
Fawad during the cricket match:

''God gave you two hands. TWO HANDSSSS'' 👐🙆

🙈😹😁🙊

— ❤ (@fifi_pb_) February 12, 2016
That video of #KapoorAndSons cricket match is so funny!
Fawad: Ye kitna rondo hai
Sid: Mari marzi
Lol😂😹 luv em! @S1dharthM @_fawadakhan_

— m a r i a m 🎀 (@SelZaynSidValia) February 12, 2016


https://twitter.com/afreenaleem19/status/698116975214649345


FAWAD AND SID PLAYING CRICKET OMG THESE TWO ARE 👌😀😍 #KapoorAndSons

— ❤ (@fifi_pb_) February 12, 2016
During cricket:
Fawad gets stressed.
Sid cries when he gets out.
Fawad uses a measuring tape to check if its out or not.#KapoorAndSons
😂😂😂😂

— ❤ (@fifi_pb_) February 12, 2016
@karanjohar @S1dharthM @_fawadakhan_ OMG Cricket in a movie shoot seeing it first time loving this two hot ties Sid and Fawad .. <3 <3

— Adnan🇦🇺 (@iamadnan49) February 12, 2016
COMMENTS
Comments are moderated and generally will be posted if they are on-topic and not abusive.
For more information, please see our Comments FAQ